Using trendy appetizers and small plates is a great way to increase sales. Fried green tomatoes are a hot item for small plates now, take advantage of this easy innovation to start driving increased sales.
As eating habits shift to include more snacking and sharing, there is a huge opportunity to take advantage of appetizers and small plate sales. Did you know that nearly 40% of patrons order appetizers and about 30% order small plates on all or most of their restaurant visits?
This coupled with the fact that fried green tomatoes have grown 24% on menus in the last four years could mean big profit potential for operators who menu fried green tomatoes. Not to mention the fact that, over 40% of consumers are looking for more full-service restaurants to offer small plates.
How To Serve Fried Green Tomatoes
Crunchy fried green tomatoes have long been a staple in southern kitchens and in recent years have started appearing on menus everywhere. Fried green tomatoes are often featured as the center-of-the-plate in appetizers accompanied by zesty dipping sauces and flavorful toppings.
For example, Smokey Bones Bar & Fire Grill puts a modern spin on Fried Green Tomatoes by pairing them with fresh garlic, parsley, parmesan cheese and a tomato dipping sauce while Noble Crust, an Italian restaurant based in Florida, serves Southern-inspired Fried Green Tomatoes with Tabasco-Honey glazed Pork Belly and Pimento Cheese.

Fried green tomatoes can easily add dynamic flavor and texture to your current appetizer and small plate menus. This on-trend and versatile dish can also attract customers during happy hour.
Fueled by the rise of the cocktail culture—and the irresistibility of discounted drinks and appetizers—happy hour is now one of the most lucrative opportunities for restaurants and bars. More than half of consumers consider food specials to be very important at happy hour and can even influence their decision of where to go.
Pairing Fried Green Tomatoes
Want to satisfy your patrons but still keep things simple in back-of-house? Try pairing one of these eight flavorful sauces with fried green tomatoes for an easy-to-prepare dish with strong menu appeal:
Wasabi Mayo Sauce
Cajun Remoulade Sauce
Smoky Mustard Mayo Sauce
Buttermilk Ranch Sauce
White BBQ Sauce
Garlic Parmesan Sauce
Yogurt Avocado Sauce
While the Fried Green Tomato is the perfect starter, don't feel it's limited to your appetizer menu. This versatile ingredient can turn simple breakfast and lunch dishes into signature entrée's.
For example, Another Broken Egg Café serves jumbo lump crab cakes atop fried green tomatoes with Cajun rémoulade sauce, red peppers and goat cheese.
5 Menu Inspring Fried Green Tomato Dishes
Interested in expanding your menu offerings, but not sure where to start? Here are five on-trend menu applications to showcase Fried Green Tomatoes on your menu.
Tomato Caprese Stack - Alternating fried green tomato halves, mozzarella rounds and fresh basil with a balsamic glaze drizzle
The Fiery Benedict - Fried green tomato halves layered with sautéed spinach and a poached egg topped with sriracha hollandaise
Asian Slaw Salad - Fried green tomato halves served over Asian slaw and kale topped with spicy chili dressing and sesame seeds
Country Style Breakfast Biscuit - Buttermilk biscuit sandwich with fried green tomato halves, grilled ham steak topped with an over easy egg and country gravy
Fried Green Tomato Slider - Fried green tomato halve topped with honey glazed bacon and a creamy goat cheese spread
While fried green tomatoes have the potential to drive menu sales, you may not want to invest the extra time or labor in the prep work. After all, who has time to wash, slice and bread tomatoes for every order. Harvest Creations® Dipt'n Dusted® Fried Green Tomato Halves are the perfect solution.
Made from thick, hand-cut half slices of tart green tomatoes and tossed in a signature coating of seasoned flour and cornmeal, Dipt'n Dusted® Fried Green Tomato Halves make it easy create your own signature dishes while satisfying customer demand.
Interested in Fried Green Tomato Halves?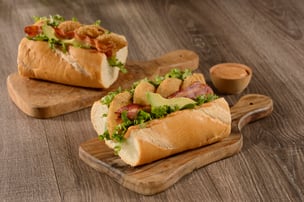 Get stated with a FREE CASE of Dipt'n Dusted® Fried Green Tomato Halves and easily add a fresh-tasting vegan-friendly menu item with no fuss or waste.