What's trending on the left-hand side of the menu varies across different parts of the country.
Consumers have their favorite appetizers and snacks, and often these preferences vary based on geography. Operators are menuing starters, shared plates and snacks that satisfy consumer demand for small bites that work well in a region's climate, feature locally sourced ingredients or simply have a long tradition in a certain locale.
Healthful eating out west
According to the mobile and online food ordering company Grubhub, vegetables are trending in California:
Vegetable pakora — a deep-fried fritter from India — is 200% more popular in San Francisco than in the rest of the U.S.
Vegetable egg rolls are 268 % more popular in Los Angeles than in the rest of the U.S.
California has long been known as a source of great produce, says Eric Stangarone, founder of Food Thinking, a consultancy based in San Francisco. "What you see is the anchoring of appetizer menus based on historical foods," he says. For example, crudités that showcase local vegetables are popular now in California. "Crudites are a great way to have something shareable without adding a bunch of calories."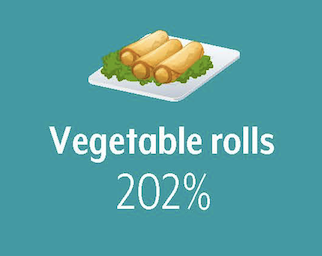 At Phoenix-based True Food Kitchen, one of the top-selling appetizers is the Charred Cauliflower, featuring harissa tahini, medjool dates, dill, mint and pistachios. "Vegetable-driven small plates are the biggest trend right now," says Taylor Domet, director of culinary standards. He adds that of the chain's 22 locations, eight are in California, where guests are likely to order lighter fare.
California has different regional food trends within the state, says Katie Sutton, chef and vice president of culinary innovation for Centennial, Colo.-based Food And Drink Resources.
In Southern California, vegetarian appetizers and appetizers made with sustainable seafood are on-trend now.
In Northern California, organ meats such as tongue or duck liver are popular.
Western favorites move southwest
Operators say consumer favorites can vary by state, even within the same chain. Most locations of Lazy Dog Restaurant & Bar are in California, where one of the most popular small plates is Ancient Grains and Roasted Veggie Salad. When the concept opened a location near Denver this winter, guests, however, opted for some warm plates:
Onion Ring Poutine: pot roast, crispy onion rings, french fries, gravy, havarti, sunny-side up egg and roasted vegetables.
Mac + Cheese: smoked bacon, hatch chiles, five cheeses, green onion crumble.
"We've never had a restaurant where it snows," says Gabriel Caliendo, vice president of research and development. "Guests really leaned in to our hot foods."
Southern stays traditional
Menus in the southern and southwestern states still reveal a Mexican food influence, Stangarone says. He points to pimento cheese as part of the trending appetizers there. In addition:
Guacamole is 301 % more popular in Dallas than in the rest of the U.S., according to Grubhub.
Nachos are 132 % more popular in Dallas than in the rest of the country.
In Florida, seafood still ranks as a favorite appetizer:
Seaweed salad is 387 % more popular in Miami than elsewhere in the country
Coconut shrimp is 212 % more popular in Miami than in the rest of the U.S.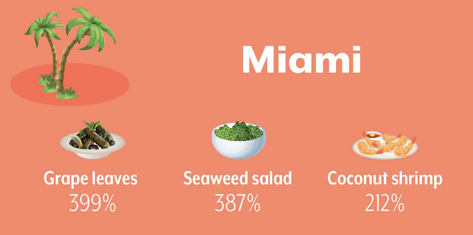 At Yard House, one of the Orlando, Fla.-based Darden Restaurants Inc. brands, Poke Nachos, featuring marinated raw ahi, avocado, cilantro, serranos, green onions, nori, sesame seeds, sweet soy, sriracha aïoli, white truffle sauce and crispy wontons, has become a favorite in Florida and also in California. "The Poke Nachos deliver on flavor and shareability," says Jennifer Weerheim, vice president of marketing. Also popular in the 70-plus unit chain:
Deviled Eggs and Lobster, Crab & Artichoke Dip trend high in Texas and the Southeast.
Wisconsin Fried Cheese Curds are a leader in the Midwest, ranking high among guest favorites in Illinois, Indiana, Minnesota and Ohio.
East Coast favorites
Pickled vegetables are on-trend now, especially in East Coast restaurants. Stangarone, a partner at En Su Boca Taqueria and Beauvine Burger Concept in Richmond, Va., says one popular appetizer at the southern-inflected Beauvine is the Seasonal Pickled Vegetable Jar, with pickled garlic, rosemary and champagne vinegar.
Pickles are also a big hit at The Counter, a better-burger brand from Scottsdale, Ariz.-based Kahala Brands. The Counter has more than 40 locations, and in Reston, Va. the Fried Dill Pickles with apricot sauce are a big seller. "We think they are a customer favorite since our chef grew up in the East Coast and pickles are a preferred food there," says Rachel Cohn, director of marketing for The Counter. Other popular appetizers include:
Buffalo-style wings are the top-rated appetizer in New York, she says. "We attribute the popularity of this item with our proximity to Buffalo, N.Y., the birthplace of the Buffalo wing."
Parmesan fries, with garlic aioli, rosemary and parsley are the most popular appetizer systemwide. Loaded tots with pimento cheese, applewood-smoked bacon, scallions and buttermilk ranch, and Sweet Potato Fries with horseradish aioli are also favorites.
Mid-Atlantic
At the 47-unit Greene Turtle Sports Bar & Grille the bestselling appetizer is Crab Dip — lump crabmeat and melted mozzarella, topped with Old Bay seasoning, served with soft pretzel sticks. "We do a lot of focusing on Maryland cuisine," says Jeremy Larkin, vice president of business development.
Larkin adds that Crab Dip is probably the No. 1 item on the menu overall, not just in Maryland but also in New Jersey, Pennsylvania, West Virginia and Long Island, N.Y.
Appetizer tips:
While regional preferences are important, operators should also consider food costs and margins.
"Look at your appetizer menu as you would a portfolio," Standalone says. "You are going to have winners with great margin items, and then you're going to have things like chicken wings, which are terrible for profitability but everybody wants them."
Sutton says to look to chef-driven operations for menu and food trends. "Trends come from high-end chefs; then they trickle down to casual restaurants," she says. "Usually the trend starts on both coasts and then moves inwards."

Looking for more inspiration?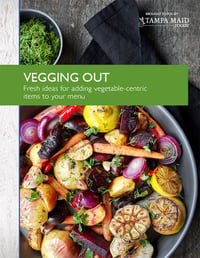 Our infographic provides insights on regional trends that influence consumer preferences on appetizers & snacks. Or download our Vegging-Out White Paper, to learn what consumers expect from meatless meals plus fresh ideas for adding vegetable-centric items to your menu.