These strategies may appeal to homebound consumers who have come to view cooking as a repetitive chore and are craving restaurant food.
How to Attract Cooking-Weary Consumers to Your Menu
These strategies may appeal to homebound consumers who have come to view cooking as a repetitive chore and are craving restaurant food.
After months of routinely preparing meals at home due to the COVID-19 pandemic, many consumers are feeling cooking fatigue and looking for a break. Restaurants are in a unique position to provide that respite to people who are tired of cooking, with on-trend delivery and takeout menus.
According to a recent survey of Americans conducted by OnePoll and Sun Basket, 55% of consumers say cooking more meals at home during COVID-19 has left them feeling fatigued.
Luring consumers who are already desperate to get out of the kitchen to order from your restaurant doesn't have to be complicated. It does require menuing the foods consumers have been missing most, however, such as quality seafood.
What Consumers Want
Quality seafood is what many consumers are missing the most due to closed restaurants and the difficulty of preparing it at home.
According to DoorDash's mid-year Deep Dish report, which checks in on national and regional food trends, more than one-third (34%) of consumers surveyed say they miss eating the fruits of the sea. Additionally, seafood ranks among the top foods respondents are most excited to eat when they resume normal restaurant food routines.
Other top restaurant foods respondents said they're missing include:
Mexican: 40%
Sushi: 30%
Italian: 30%
Barbecue: 29%
Desserts: 23%
Menu Maneuvers
To satisfy consumers' pandemic food preferences, operators should consider these three menu strategies:

1. Fire up the fryer. More operators are turning to their fryers to quickly and easily prepare favorite fried dishes that consumers crave now and can't easily cook at home. Consider adding the following to your menu:
2. Cook up comfort foods. U.S. consumers historically turn to indulgent foods for comfort during challenging times, but these habits have been heightened during the pandemic, according to The NPD Group. French fries, pizza and burgers remain the most popular items, but operators should also consider menuing one of these other top-growing indulgent foods:

Mexican dishes, such as fish tacos or shrimp fajitas
Seafood sandwiches, such as shrimp Po' boys or crab cakes
Fried vegetables, just about any veggie—from green beans to zucchini— is better when made crispy
Veggie burgers
3. Put plants forward. While the Beyond and Impossible burgers have gotten much of the hype, plant-based appetizers are also gaining traction with consumers and appearing on more menus, Datassential reports. Among the top-growing veggie apps to consider incorporating into menus:

Tater tots
Brussels sprouts
Shishito Peppers
Cooking-fatigued consumers already have the motivation to order delivery or take-out—they just need a reason to do it from your restaurant instead of your competitors. Serving up the comfort food favorites, plant-based apps and seafood dishes that customers have been craving will keep them coming back to your menu again and again.


Looking for more inspiration?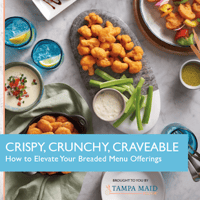 Nearly three-quarters of millennial diners are likely to order small plates and appetizers when dining out. Discover other generational preferences around mealtime in our Crispy, Crunchy, Craveable white paper.