Seafood festivals, feasts, and other LTOs drive traffic, sales and trial during National Seafood Month.
Fall-ing for seafood and fish
While pumpkin spice promotions have become ubiquitous, they aren't the only way for restaurant operators to drive traffic, sales and trial during the fall.
Operators with seafood-loving customers have a unique opportunity during National Seafood Month when they can celebrate, innovate and promote all things seafood for the entire month of October.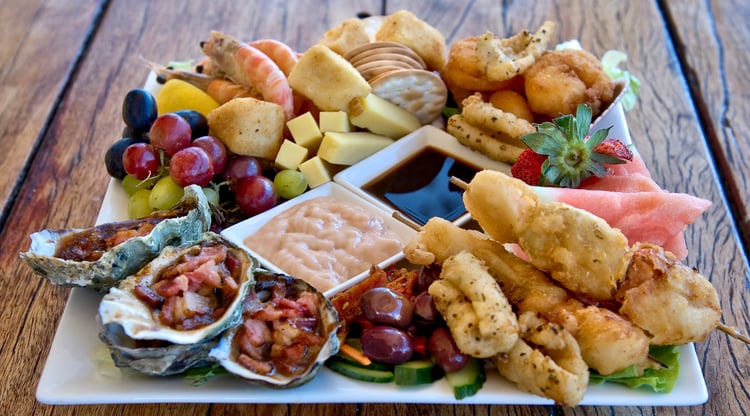 Seafood "feastivals"
Since National Seafood Month was proclaimed by Congress more than a quarter century ago, savvy restaurant operators have been serving up — and heavily promoting — all manner of seafood feasts, festivals, and limited time offers.
In years past, Captain D's — which operates more than 550 fast-casual seafood restaurants, mostly in the Southeast — has invited customers to "Celebrate National Seafood Month with D's," with a coupon for its Deluxe Seafood Platter and other limited time offers.
This year, in honor of its 50th anniversary, Captain D's has been running an array of limited time offers, such as the Ultimate Shrimp Feast of five meals, including Extra Crispy Shrimp and Creamy Shrimp Scampi; and Lobster & Crab Celebration. It includes items such as a Crab Cake, Shrimp and Fish Meal; Lobster Rolls; a Lobster Bites, Fish and Shrimp Meal; and a Six-Piece Lobster Bites.
Tampa, Fla.-based Bonefish Grill, a polished casual-dining seafood chain with more than 200 restaurants nationwide, celebrated National Seafood Month last year by offering a three-course dinner special every Thursday during the month of October. The chain has also promoted periodic species feasts, such its Bang Bang Shrimp Menu, in which it offered an entire menu dedicated to an array of specials featuring the crispy shrimp tossed in its signature creamy, spicy sauce.
These and other restaurants return to seafood feasts, festivals, and limited time offers — often tweaking them, adding new items — year after year because they work to draw attention to their brand, and drive traffic, sales and trial.
Seafood-centric festivals
Perhaps most well-known for successfully promoting all manner of seafood feasts and festivals is Red Lobster, the casual-dining seafood chain founded in 1968. Think Lobsterfest, which features several lobster-centric entrées with a choice of salad and unlimited Cheddar Bay Biscuits; Crabfest, which gives customers a chance try dishes such as Dueling Crab Legs, Southern King Crab Leg Dinner and Crab Cakes and Oscar-Crab Salmon; and Endless Shrimp, in which customers enjoy as much mix-and-match shrimp as they like.
"Our guests love shrimp, and they especially love Endless Shrimp because of all the different flavors and preparations they can try," says Dustin Hilinski, executive chef and director of culinary at Red Lobster in a 2018 statement. "This year's Endless Shrimp lineup is exciting and craveable because it puts Red Lobster's unique seafood twist on classic dishes, like nachos and Asian flavors."
Reelin' 'em in with seafood
Consumers growing interest in seafood — Americans consume an average of 16 pounds of seafood per person per year, according to the USDA — along with National Seafood Month, presents a sales opportunity for many restaurants. Below are a few suggestions to consider implementing for this year's National Seafood Month:
Single Species Feasts. Make a signature seafood appetizer or ingredient available in a variety of fresh preparations across the menu for a limited time. For example, take popular Jamaican Jerk Shrimp made with spicy jerk seasonings and use it in tacos with pineapple, in warm tortillas with slaw, as a topping to citrus-grilled fish or on top of a burger or steak.
Seafood Family Feasts. Offer an affordably priced, on-premises family meal deal packed with seafood-y goodness. Think an overflowing combination plate with crabmeat stuffed flounder, a dozen breaded butterfly shrimp, a dozen breaded sea scallops, a half dozen breaded oysters, two crab cakes and a choice of two family- style sides.
Seafood Weeks. Serve up a different seafood special every night for one week in October. To differentiate yourself from competitors, focus on a different species each day of the week — shrimp, crab, scallops, flounder and so on.
Tick-Tock Specials. Offer a select species for a set time period with prices rising as time marches on. For example, menu raw or breaded oysters or breaded butterfly shrimp for a fixed price each during a two-hour window with prices increasing slightly every 30 minutes.
All-They-Can-Eat Promotions. Capitalize on seafood customers' sense of extreme-value-for-the-money with an unlimited seafood special for a fixed price. Kick the offer up a notch by featuring it on a typically slow night. For instance, Mollusk Mondays, with bowls of steamed mussels or clams topped with French fries.
Sure, adding a dash of seasonal pumpkin spice to a coffee blend or serving up a limited time pumpkin spice dessert can't hurt. However, celebrating National Seafood Month with seafood feasts, festivals and other fruitti di mare offers a truly fresh way to drive more traffic, sales and trial this October — and all season long.
Looking for more inspiration?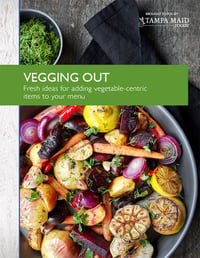 See our infographic to see how these tips can be applied to your kitchen! Or download our Vegging-Out White Paper, to learn what consumers expect from meatless meals plus fresh ideas for adding vegetable-centric items to your menu.