Customers who desire to eat healthy, don't always follow through when ordering.
For years restaurant customers have requested more healthy food options, and to chefs' credit most menus contain options allowing diners to cut calories, cholesterol and carbohydrates.
But are those diners actually choosing healthful items when they visit a restaurant? Depending upon the restaurant, the answer can vary widely.
Some experts — nutritionists among them — question whether changing menu items on a micro level (that is, reducing fat, sugar or carbs) is even a good strategy when moderation and a balanced diet appear to be the keys to long-term healthy eating. They suggest that consumers can "live a little" when dining out if they return to sensible eating at home, and view restaurant meals more as celebratory indulgences that do little harm, while even rewarding sensible eaters for their dietary discipline.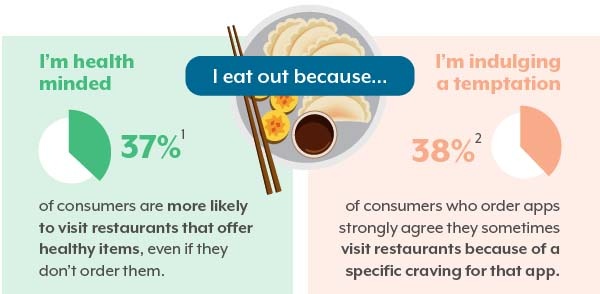 Overall, Anita Jones-Mueller, president and founder of HealthyDiningFinder.com, says a growing number of diners not only visit restaurants for healthy meals, but are also better educated about their choices.
"In the past, a lot of them wanted to eat healthier, but they made other choices," Jones-Mueller says. "But now we're seeing a real cultural change among consumers, especially among millennials and baby boomers who are consciously focused on eating healthier."
Good intentions, less follow through
NPD Group restaurant analyst Bonnie Riggs says her firm's survey data shows restaurant customers' wishes for healthy eating rarely match their decisions at the table. NPD puts the number of customers who want to eat right but don't at 10 percent.
"More often than not, they go in with good intentions to eat healthier, but that's not what they do," Riggs says. Such goals are often neglected when people choose restaurants where indulgences vastly outnumber better-for-you choices. "If they truly want a healthy meal, they'll purposely go to a place with lots of healthy options. But if they're going to traditional fast-food places or the typical full-service restaurant, they're drawn toward what those restaurants are known for serving — usually not healthy items."
Depending on the actual indulgence and portion sizes, however, it's often not that detrimental to one's diet to enjoy items like breaded, fried seafood or vegetables that, while coated in a crust of crispy carbs, still contain many beneficial nutrients. Especially when shared, small plates become indulgent yet lighter snacks. Ideas include:
These provide diners with a choice of flavorful, easily recognizable menu options.
Balancing act
Scott Weaver, executive chef at seven-unit Elephants Delicatessen in Portland, Oregon, says the bulk of his customers are health-food focused. Yet while the bulk of orders include healthful, scratch-prepared foods, they're typically accompanied by some sweet treats.
"We have pot de crème, crème brûlée, cupcakes and those sorts of things," Weaver says. Yet he says it's clear that Elephants' customers make specific choices to balance their diets. Morning pastry sales have declined steadily for years, he says, as customer preferences have shifted to options filled with protein.
"It's amazing how many hard-boiled eggs we sell through grab-and-go these days," he says, ---"vegetables, too, like roasted cauliflower and snap peas. They're in the case that allows the customer to see them easily and buy them."
The ratio of indulgent-to-healthful items on the menu at six-unit Kanela Breakfast Club is fairly balanced, says owner Chris Lardakis. Marketing the motto, "Healthy. Happy. Hungry," the Chicago Greco-American brunch concept starts with healthful ingredients that, depending on customer preferences, can be prepared in a more indulgent manner. But like Jones-Mueller, Lardakis says a large share of his millennial and boomer customers dine with health goals in mind.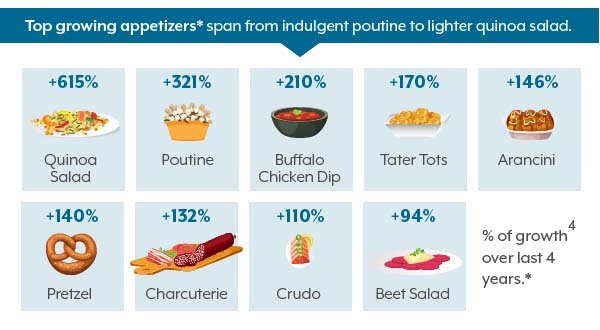 Indulgence in moderation
"I'd say it's probably more than 30 percent of our customers overall who eat healthy here," Lardakis says. Buttermilk pancakes are available, but whole wheat pancakes are, too. Items such as chia pudding with berries and avocado toast on vegan bread are big sellers, as are healthful wraps stuffed with grilled meats and vegetables.
"I see a lot of people come here who start with some monkey bread, but then have a wrap or a salad after that," Lardakis says. "Others might have a burger but then drink freshly squeezed juice instead of soda. People are enjoying indulgent things in moderation."
And for now, that segment of customers focused on balancing healthful and indulgent foods might be the most essential to watch, Weaver says. "Our vegan customers are a really vocal and dedicated group, but the impact they make on sales is, frankly, bottom of the barrel," he says. Sales of healthful, whole foods that most restaurant customers would regard as normal remain the most significant. "That's the largest part of our business by far."
Looking for more inspiration?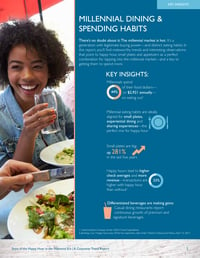 Our infographic provides insights on how consumers are looking for healthy appetizer options that taste great. Or download our State of the Happy Hour Trend Report to learn more about this and how to tap into the millennial market with healthy appetizers.