Catering favorites reflect customers' desire for convenience or indulgence.
Operators target sales increases through catered meals
In an effort to build supplemental business in a highly competitive marketplace, an increasing number of restaurateurs are adding or expanding off-premises catering services to bring food directly to consumers.
Whether the occasion is a business meeting or a birthday party, customers are responding by showing their desire to eat where they're busiest and most comfortable. As a result, operators are honing their catering menus to offer a broader range of choices — from small plates and appetizers to international fare to comfort food.
CHD Expert estimates catering accounts for nearly $60 billion in annual sales — 7.5 percent of the industry's $799 billion total — and it expects that number to grow as restaurants improve their catering services including menus, order-placement channels and delivery systems.
"We believe business-to-business catering sales are $22.7 billion annually, and the rest is business-to-consumer," says Jim Rand, catering practice leader at ezCater. The Boston-based company has a network of 60,000 restaurants which connect customers with restaurants that cater in 23,000 U.S. cities. Rand, who previously led the system-wide catering program at P.F. Chang's and Panera Bread Co., says business-to-business catering is the one to watch, as "that's on a 10 percent annual growth trend and has been running double-digit growth for years."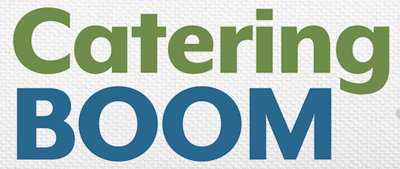 Contemporary catering evolves
For decades, restaurant catering meant staffers took food off premises to customers, served it and cleaned up afterwards. That iteration exists today, but most commonly for higher-end events where servers pass small bites to guests or direct them through elaborate buffets.
In 2018, the definition of food catering has widened. Dunkin' Donuts is currently testing a catering program in which customers place group orders online and then pick them up at the shop. Dunkin's "party packs" include a pre-selected offering of baked goods, a portable hot coffee dispenser, a branded disposable tablecloth plus napkins, cups and utensils.
Panera's highly successful catering program — led by Rand during his tenure at the St. Louis-based company — gives customers the option to pick up their orders or have them delivered. Drawing on its broad menu of cold and hot sandwiches, sweet and savory baked goods, salads, appetizers, hot oatmeal and soups, the 2,000-unit chain also delivers food on trays or boxed individually.
"These days catering is different to everybody," says Darren Tristano, chief executive officer at CHD Expert, a global restaurant data and research firm.
Catering can deliver wide margins
Tristano believes the $60 billion catering market has huge upside potential as customers increasingly want the convenience of restaurant food brought to them. That's good news for operators whose fixed costs are already covered by on-premises sales, and thus can enjoy improved margins on catering sales.
"If you can increase business 12 to 15 percent through catering, that's a tremendous lift to your profits," Tristano says.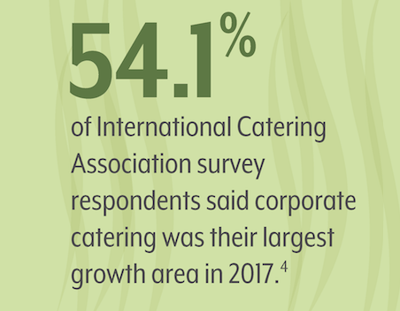 Popular catering dishes vary
As the business has evolved, so have catering menus, which today vary widely depending upon the operation or occasion. Burger specialist Red Robin's catering program features a Gourmet Burger Bar in which hot cheeseburgers arrive ready for custom garnishing from an accompanying "bar" of 12 toppings. Meanwhile, sliders served as small plates or appetizers also have emerged as popular choices on catering menus. Newk's Eatery, for example, features two slider variations:
Chicken Parmesan with marinara sauce and Ammerlander Swiss cheese.
"Q" Sliders with grilled chicken, white barbecue sauce, bacon and Ammerlander Swiss cheese.
Heated buffets tend to rule in social situations where casual self-serve burrito, taco and queso bars are popular. More elaborate dishes like sushi and a wide range of noodle and rice dishes served by Asian operator P.F. Chang's befit somewhat more upscale settings.

Small plates and appetizers can provide guests with the opportunity to customize their meals and sample different flavors. Many Italian-themed restaurants offer a choice of menu-appropriate small plates and appetizers like garlic knots, cold antipasto, bruschetta and fried calamari. The Olive Garden's catering menu features a number of fried Italian appetizers including:
Parmesan Zucchini Bites.
Spicy Calabrian Chicken.
Chicken Fingers.
Fried Mozzarella.
For many restaurants it's important to keep food catering menus on-trend. The Cheesecake Factory broadens its catering appeal by offering an international mix of appetizers. Selections include Chicken Pot Stickers, Avocado Egg Rolls, Quesadillas, Hot Spinach and Cheese Dip, Tex Mex Egg Rolls, Thai Lettuce Wraps, Buffalo Wings, and Guacamole and Chips.
Comfort food selections are popular at large gatherings, and fried items rank among the most popular comfort foods on both restaurant and catering menus. Fried vegetable dishes like fried zucchini spears, green beans, fried pickles and fried green tomatoes also perform well as small plates or appetizers in a catering environment.
Catering Tips
To avoid executional problems, caterers are cautioned not to offer their regular restaurant menu for food catering. Streamlined menus work better, Rand says, especially when using items that can be scaled up easily to party sizes.
He also advises choosing menu items that "travel well," meaning once cooked, their quality upon arrival is comparable to that found at the restaurant. A few tips for transporting hot food:
For fried foods designed to be crisp, choose to-go containers that allow steam to escape and reduce sogginess.

Styrofoam containers are great for heat retention, but don't release moisture well.
Cardboard containers provide good ventilation but don't retain heat well.

Keep hot food loosely wrapped to avoid trapping moisture.
Purchase sturdy, high-quality hot bags that "breathe" well and are designed to hold multiple to-go boxes.
Don't overload hot bags. Steam can build up quickly and turn food soggy.

A few other catering tips from Rand and Tristano:
Catering needs its own space within a restaurant, otherwise it can disrupt on-premises service.
Place one or two people in charge of catering — individuals who can take ownership of it.
Look to third parties for help, such as delivery services and online ordering vendors.
Make your products and service memorable by investing in high-quality branded packaging.
Catering, as many in the industry are executing it, Tristano says, is more for feeding a sizable group all at once and easily. "What we're seeing more of today isn't about the high-end service, it's about convenience and good value."
Looking for more inspiration?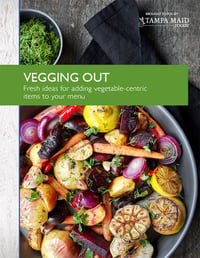 Check out our infographic to see more tips and best practices for implementing catered meals onto any menu.Or download our Vegging-Out White Paper, to learn what consumers expect from meatless meals plus fresh ideas for adding vegetable-centric items to your menu.