Operators menu innovative breakfast items to grow the day-part — and not just in the morning.
Building breakfast menus to boost business
Restaurants seeking to boost traffic and sales are increasingly looking to breakfast as an added source of business. Breakfast is the day-part which continues to promise the most growth potential as consumers opt for innovative, delicious a.m. menu selections and comfort food — whether served as main dishes or even small plates or appetizers. Operators and chefs are not only adding flavorful choices to satisfy these diners, but many are also making certain that breakfast offerings are available throughout the day.
At Iron Rooster, with four locations in Baltimore, breakfast has really taken off, not only as a morning meal, but also throughout the day. "There has been a segment of people who enjoy breakfast for dinner," says owner Kyle Algaze. "It's that comfortability. You know what you're going to get and you know what to expect."
Indulgent comfort food
The comfort factor starts with such indulgent favorites as chicken and waffles. The dish features buttermilk-marinated fried chicken breast, cornmeal waffle and black pepper pan gravy. "Chicken and waffles over the last five or six years has become a more popular dish," Algaze says. "We put our spin on it with black pepper pan gravy instead of hot sauce or country gravy. It has really taken off."
The fact that the chicken is fried also adds to the popularity of the dish. "Really, it's Southern comfort food, and being able to throw something into a pot of oil and see what happens to it," he says. "The comfort food segment is only going to continue to increase. It takes people back to this nostalgia when they were younger when everything was great."
Favorites like fried vegetables and seafood are also turning up on a.m. breakfast menus.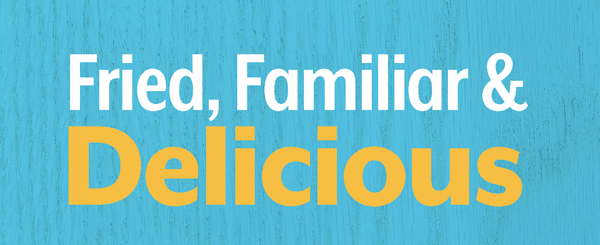 Other popular breakfast items featured on the Iron Rooster menu are:
Rancher's Benny: fried green tomato, cheese, roasted corn salsa, roasted poblano sauce, poached eggs and hollandaise sauce on an English muffin
Shrimp 'N' Grits: jumbo shrimp, poached eggs, creamy stone-ground grits, chipotle butter, pork roll, tomatoes and white wine
Adding a twist
Fried chicken for all-day breakfast has been gaining popularity lately, so the key is to come up with a variation that will pique consumers' interest. At the five-location Tom's Urban Diner, one popular item on the Everyday Brunch menu is the Crispy Chicken and Cornbread Pancake. The dish includes a sweet cornbread pancake topped with fried, spicy, crispy boneless chicken and salted caramel butter, and served with a side of maple syrup.
"You cannot go wrong with that," says Dylan Taucer, senior marketing and events manager for the Las Vegas New York-New York Casino location of Tom's Urban Diner. "It's the perfect combination of sweet and savory."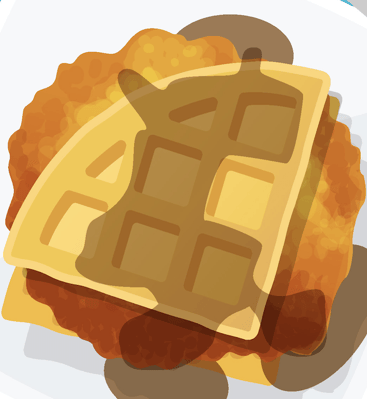 Another big seller at Tom's is the Gigante Breakfast Cubano, which contains carnitas, pit-smoked ham, Asadero hash browns, two fried eggs, Swiss cheese, yellow mustard, pickled onion, and kosher dill, inside a butter-toasted sourdough.
These dishes are popular, Taucer says, because people are on vacation and they are looking for something extravagant, or for a hearty meal after imbibing. "We are located on the 50-yard line of the Las Vegas strip," he says. Small plates are also popular, such as Colorado Calamari, which are crispy calamari, fried Anaheim & Fresno chilies, remoulade and green chili ranch dipping sauces, and new on the menu, Lemon Rosemary Tots.
Fried and popular
Even customers who are not on vacation enjoy fried comfort foods for breakfast — particularly at restaurants offering an all-day breakfast menu. At Oklahoma City-based Jimmy's Egg, one best-selling item is Jimmy's Garbage Breakfast, with crispy hash browns topped with grilled onions, bell pepper and sausage crumbles with two eggs cooked to order. "That has been popular since we opened," says Mendi Landgraf, marketing manager for the 62-unit chain.
Jimmy's Egg opened its first location in 1980, and Landgraf says the key to success has been in listening to what customers want. "We have learned in talking with our customers that they want flexibility and choices," she says. "Offering breakfast and lunch all day gives them flexibility, and they want choices in sides so they can mix and match."
Think Small
At The Chicken or The Egg in Beach Haven, N.J., a top-selling menu item is the New Jersey Devil. It consists of two eggs, pork roll and pepper jack cheese on a grilled jalapeño cheddar bagel served with home-fried potatoes smothered in onions, peppers and melted jack and cheddar cheese. "It's popular because it's awesome," says owner Mark Cohen. "And it features a local Jersey favorite — pork roll."
The 24-hour establishment also caters to diners' desire for choice by menuing an appetizer section which features a number of popular all-day fried comfort food items. Selections include:
Battered mozzarella sticks
Jalapeño poppers
Broccoli bites
Batter-fried corn nuggets

Also, Cohen says, wings are popular any time of day.
At Tasty n Sons in Portland, Ore., the brunch menu lists selections under "Small" and "Large" headings. Small items include:
Maple Bacon-Wrapped Dates
Cast Iron Frittata with spicy stewed green beans and micro greens
Potatoes Bravas with over easy egg and aioli
At Einstein's in Atlanta, brunch small plates include:
Salt & pepper calamari with Thai chili pesto, ginger aioli
Fried green tomatoes, fresh goat cheese, cherry tomatoes, red pepper aioli
Buttermilk fried chicken tenders with honey-smoked chili glaze
Whether it's a nostalgia-filled favorite or an innovative, nontraditional menu item, offering indulgent fare, especially fried foods and small plates for breakfast is a great way to build traffic and excite consumers' taste buds. Best of all, these comfort foods are satisfying any time of day, so operators can add their own signature spins to them.
Looking for more inspiration?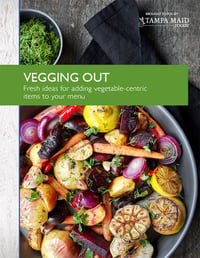 Check out our infographic for more information on the breakfast-small-plates trend. Or download our Vegging-Out White Paper, to learn what consumers expect from meatless meals plus fresh ideas for adding vegetable-centric items to your menu.