New menu ideas include the cross-utilization of seafood to aid in cost reduction and increased sales.

A SHRIMP TALE
A workhorse ingredient and the most menued shellfish species, shrimp is loved more than most varieties of seafood by 50 percent of consumers. Half of all consumers would choose shellfish — such as shrimp — and fish in applications other than an entrée, including appetizers, side dishes, snacks and sandwiches.
Follow the journey of shrimp's possibilities:
App-ealing Bite. 42 percent of restaurant operators offer shellfish as an appetizer. Pair crispy jumbo shrimp with on-trend dipping sauce flavors, such as Thai coconut and mango habanero.
Bowled Over. Shellfish bowls appear on 24 percent more menus than they did in 2013. Top a bowl of greens, avocado, quinoa, crumbled feta, tomato, shrimp, and toss in a citrus vinaigrette.
Snack Attacks. 4 percent of seafood at restaurants is eaten as a snack. Make seafood dip with a blend of shrimp, scallops, lump crab and creamy cheeses, and serve with wonton or tortilla chips.
Hearty Sammies. 23 percent of operators offer shellfish in a sandwich. Layer crispy shrimp on French-style roll and top with hot sauce for an authentic New Orleans-style 'Po Boy sandwich.
Savory Breakfast. 40 percent — the increase in shellfish on breakfast menus between 2007 and 2017. Top creamy, cheesy grits with shrimp or use the shellfish in a ceviche for savory breakfast or brunch dishes.
Source: Datassential 2017 Seafood Keynote; National Fisheries Institute's (NFI) annual list of the top 10 most consumed seafood species in the United States
Looking for more inspiration?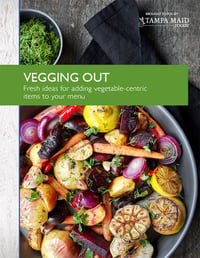 See our blog to learn more about these growing trends! Or download our Vegging-Out White Paper, to learn what consumers expect from meatless meals plus fresh ideas for adding vegetable-centric items to your menu.