'Left side of the menu' becomes showcase for chefs' versatility and variety through appetizers and small plates.
No Plate "Left" Behind
Restaurant customers often go out to eat, craving a main dish item such as steak, seafood or pizza. But today's guests are modifying their dining behavior and opting instead for a variety of smaller dishes selected from the "left side of the menu" — home to appetizers, small plates and shareable plates.
There they find not only a range of choices, but also trendier foods sold for prices well below $20 to $40 entrées. By ordering smaller portions, they can customize their meals or try just a few bites of an unfamiliar preparation.
Consumers' willingness to nosh on diverse dishes gives chefs the green light to innovate, says Todd Rushing, operating partner of Atlanta-based Concentrics Restaurants. "Most of the time now the left side is the star because it's got all these intensely flavored, smaller portions," Rushing says. "Chefs love that because it gives them a chance to play."
In the National Restaurant Association's What's Hot 2018 Culinary Forecast, 60 percent of 700 chefs surveyed ranked small plate sharing/snacking instead of traditional meals as being a Hot Trend.

Left gets Small
As dining has evolved, Rushing says it's become "a lot more about groups than dates. So you need more and larger platters of things which can be shared." At several of Concentrics' 14 upscale-casual restaurants, menus feature 20 small plates next to just a half-dozen entrées.
"It shows guests a menu with values at lots of price points," he says. "People can get three things at about the same price as an entrée and get excited about building their own meal."
Value-priced appetizers and small plates are part and parcel of the family dining proposition at Louisville, Ky.-based Texas Roadhouse. According to company spokesman Travis Doster, some shareable plates cost as little as $4.99, while larger appetizer combo platters peak at around $10.
"The point is for that part of the menu to scream value," says Doster, whose company operates 554 units in 49 states. "It also gives us the opportunity to reinforce our made-from-scratch story. It's good food at a good value."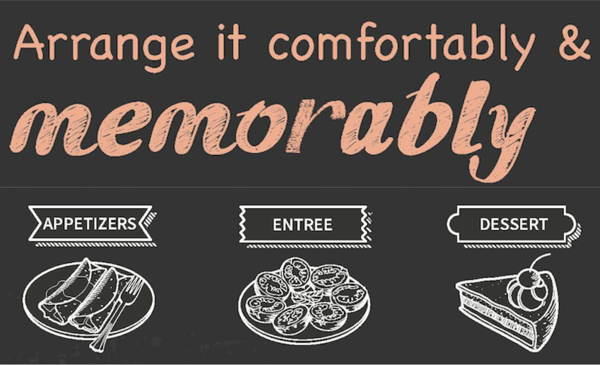 It's the Place to Experiment
The appetizers section is the ideal place for chefs to get creative in ways that ease guests out of their comfort zones, says Mike Grimes, corporate chef and manager of culinary services at Tampa Maid Foods in Lakeland, Fla. Guests also view splitting a lower-priced appetizer as a low-risk endeavor which might even reveal a great flavor discovery.
"The left side is where chefs flex their muscle and customers take some chances," he says. "If people don't like a $6.99 plate, you're not going to run them out of the restaurant."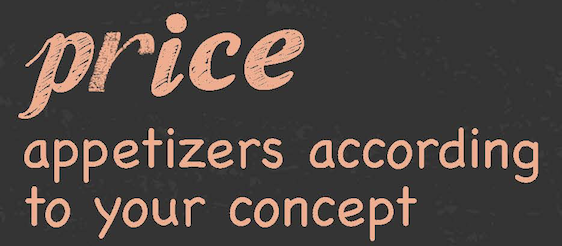 When composing the left-hand side of the menu, however, experts recommend maintaining a balance of items which offer a diverse mix of flavors, textures and cooking preparations, and give customers as much choice as possible.
Experimenting with small plates also allows chefs to be on trend with novel ingredients.
"If you want to introduce influences from a new cooking style — new Southern, for example — or a flavor from across the world, that's the place to do it," he says. "Appetizers also are a great place to take something known and give it your own spin."
Gabe Caliendo, executive chef for 26-unit Lazy Dog Restaurants in Huntington Beach, Calif., says small plates can position ingredients as something new even when they're really not.
"Poutine's popular, right? So we did an onion ring poutine with 5-hour-braised pot roast, havarti cheese and pickled onions," Caliendo says. "We took a starter everyone knows — onion rings — and really made something unique with it, something people can have a few bites of for a few bucks."
Change Seasonally
Caliendo says seasonal ingredient changes are always reflected in shifts in his appetizer menus.
"When spring comes, we don't need to be serving meatballs when that's better in the fall," he says. "In spring we're getting ready for those early green beans that are so tender and crisp, and we'll blister them and toss them in a peanut sauce. We really let that part of the menu reflect what's being grown fresh in season."
The same holds true at Concentrics, says Rushing, who instructs chefs to change what they can on a weekly basis --- "not everything, but a dish or two or just using ingredients that are coming in season."
At 890-unit TGI Fridays, shareable plates are a mainstay. That keeps David Spirito, the company's senior director of culinary innovation, busy looking for new ways to market them on all parts of the menu.
Although Fridays sells countless racks of ribs as entrées, the chain launched a successful Bucket of Bones shareable which sees smoked ribs teamed with fried wings and served in a bucket with French fries.
Going in the other direction, Fridays recently tested a Buffalo Wingman's Burger garnished with a skewer of fried chicken wings.
Similarly, a new Philly Cheeseburger is garnished with a skewered Philly cheesesteak egg roll.
"These are great for mixing and matching different flavor profiles," Spirito says. "It gives us a chance to utilize new flavors in smaller portions and usually at a lower price point."
Unquestionably, the left side of the menu can harbor great opportunities for chefs and operators who are able to cater to their customers' evolving tastes with an innovative variety of small plates, appetizers and shareable plates.
Looking for more inspiration?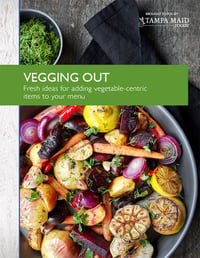 Use our infographic to successfully apply these restaurant trends with 9 tips to menuing appetizers that customers can't resist. Or download our Vegging-Out White Paper, to learn what consumers expect from meatless meals plus fresh ideas for adding vegetable-centric items to your menu.