Street food morphs into shareable restaurant plates and appetizers.
From Street to Seat
When a pair of Singapore street food operations — Hong Kong Soya Sauce Chicken Rice and Noodle and Hill Street Tai Hwa Pork Noodle — each received a Michelin star in 2016, it confirmed what many consumers have known for years: Sometimes the best food is the simplest and most affordable.
As the street food trend continues to rise, brick-and-mortar restaurant chefs are increasingly taking cues from the street and merging those ideas with growing consumer desire for shareable small plates and appetizers.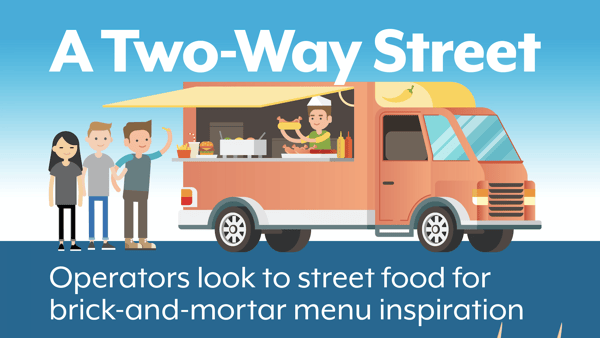 Trending and full of benefits
In a fast-paced world where consumers crave more casual dining options and global food choices, street foods are a natural fit. According to Emergent Research, U.S. food truck revenue was expected to hit $2.7 billion in 2017, more than double the $1.2 billion tallied in 2015.
The nation's chefs also project street food will factor powerfully on their menus now and in the future. In the National Restaurant Association's What's Hot 2018 Culinary Forecast, 64% of 700 chefs surveyed ranked street food and street food-inspired dishes as:
No. 3 on the list of 20 Top Food trends overall
No. 1 among the five "new dish" trends
That street foods are popular doesn't surprise Kevin Gregory of AllDay Industry, a New York-based restaurant consultancy. Customers view street foods not only as convenient and affordable, but also as a great way to try unique foods without the commitment to a full-service dining experience. Yet, ironically, he says that as customer access to street food increases, they'll want those offerings to migrate to the table.
"The key to bringing these street foods into brick-and-mortar locations is adaptation from street to seat," Gregory says. Since street food is commonly a single-serving, handheld portion, altering those items to be served in restaurants and on shared plates forces "restaurants to reconsider service, plating and the composition of the menu."

Single bites and shareables work best
Yuval Litmanovich, chef de cuisine at Green Fig in New York, says turning street food into plated food is doable but requires careful consideration. The Israeli native points to foods served in pita bread as an example.
"A very big part of those is that each bite varies from beginning to end because sauces or juices are soaking into the bread as it's eaten," Litmanovich says. "So how do you make that work on a plate — especially if you're sharing — and you present those ingredients separately?"
Tips to turn "street to seat":
Single bites, such as skewered meats and vegetables, work best. Shared platters of those can be placed at the center of the table, and servers can coach guests on how to blend each element on the plate for maximum authenticity.
Shareable platters of fried vegetables and seafood — street food items often served in paper cones and boats — are easy sellers, especially for groups. Communal plates of fried pickles or green tomatoes, or easy-to-prepare breaded fried shrimp and scallops can make a meal at the table feel as relaxed as a park-side snack.

Developing the menu
Rich Byers, executive chef at The Corner Office in Denver, says his concept uses a happy hour menu to test street food shareable small plates and appetizers. Successful international sellers there include:
pão de queijo (Brazilian cheese bread)
devils on horseback (bacon-wrapped dates stuffed with cheeses)
langos (Hungarian flatbread)
samosa chaat (Indian mashed vegetable dish)
pork belly pani popo (a Samoan sweet bread)
gyoza (Japanese dumplings)
"If those menu items are successful on the happy hour menu, we migrate them onto the full menu as an appetizer," Byers says.
Looking for more inspiration?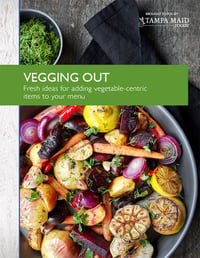 Our infographic provides insights on street food inspirations for brick-and-mortar menus. See how to add awe-inspiring street foods to the left side of the menu to increase appetizer and small plate sales. Or download our Vegging-Out White Paper, to learn what consumers expect from meatless meals plus fresh ideas for adding vegetable-centric items to your menu.