Seasonal ingredients add flavor, fresh appeal to holiday dishes like appetizers, entrées, and small plates.
In the holiday mood with seasonal ingredients
The very phrase, "holiday foods," implies indulgence, and from Thanksgiving through New Year's, restaurants serve up special occasion dishes to boost guests' celebratory mood. Drawing on seasonal harvests of fruits, vegetables and various meats and poultry, chefs can bring these ingredients together in a range of sides, appetizers, small plates and entrées, and deliver memory-making meals to their tables

Despite the end of the main growing season, the larder remains full with seasonal ingredient choices, including:
Fruits such as pomegranate, grapefruit, orange, cranberry, persimmon and apples.

Fresh vegetables such as hard squashes, pumpkin, sweet potatoes, Brussels sprouts and cauliflower.

Traditional "harvest time" meats like pork, goose, duck and aged beef.
"It's really the ingredients themselves that make a dish a holiday dish," says Katie Sutton, senior product development chef for Food & Drink Resources, a Denver-based restaurant consultancy. "Using those seasonal touches in recipes we're familiar with can make a huge difference."
Sutton says holiday dishes have gradually begun moving beyond the traditional idea of platters piled high with simple roasted meats and vegetable casseroles. Today, chefs are influenced by a melting pot of international culinary traditions which reflect America's growing immigrant makeup. In restaurants run by Sutton's chef friends, kitchen bosses are asking their cooks from around the world to weave their own holiday traditions into their menus.
"Nobody wants us to do it like grandma did it anymore; they want more fun," she says. A growing international customer base wants diversity, too, she adds. "A plain roasted turkey isn't going to cut it with Hispanics. You'd better work in some spice to make it interesting."
Variations on themes
Chefs say sides and small plates are great places to test seasonal and holiday ingredients. Humble mashed sweet potatoes benefit from a burst of orange juice and the crunch of pomegranate seeds — both of which can be combined to make a festive reduction for a roasted pork loin glaze. Sutton suggests giving cranberry relishes a Latin lift with diced jalapeños, lime and cilantro.
Eric Gabrynowicz, vice president of culinary at 15-unit Tupelo Honey, says cold weather ingredients challenge him to innovate with holiday options. Vegetables expected to appear in the late fall rotation include:
Pumpkin

Cauliflower

Jerusalem artichokes

Brussels sprouts
One meat dish he's planning is "a deep-fried, braised pork belly dish with dried apricots and pickled shallots. I love pork dishes when it's cold outside," he says.
Low risk with small plates and appetizers
Gabrynowicz and other chefs say customers also like small plates for low-risk holiday food experimentation. Unlike the commitment of an entrée, if one person doesn't like it, perhaps another person at the table will. Not surprisingly, customers driving the small plates trend are younger: Millennials on down are seeking new food adventures.

But don't think boomers don't want in on the fun, says Ric Scicchitano, managing partner with Food and Drink Resources, a Denver-based consultancy.
"A lot of them want to move away from two entrées and two drinks and get three or four apps instead," Scicchitano says. Allowing that it could be tough during the holiday season, he adds, "Some people are trying to eat more healthfully."
Gabriel Caliendo, vice president of research and development at 23-unit Lazy Dog Restaurant & Bar, says introducing new holiday plates requires a balance of the familiar with the new. He also says he is tired of mashed root vegetables and staid casseroles, but he knows those are launching points for most guests.
One solution he's come up with is a dish of pizza-oven roasted carrots and sweet potatoes to which he adds warm burrata cheese and a drizzle of pomegranate molasses.
"I also finish the dish with pomegranate seeds," he says, "because they look like jewels."
House-made peanut butter truffles rolled with chocolate and marshmallows will be on the Lazy Dog menu as well. "That's a great dish for sharing," he says.
Fried indulgences
Shareable platters of fried indulgences are popular as well during the holidays, chefs say, especially finger foods and small bites. Breaded fried mushrooms, green tomatoes, pickles, shrimp and more are always welcome at tables looking to snack and share. A fall-ingredient-inspired dipping sauce for various selections can spark guests' interest.
PJ Edwards, chef-owner of Meadow Neighborhood Eatery & Bar in San Antonio, Texas, says his own family holiday meals are now influencing his restaurant's meals. A popular mushroom gratin "that they always have me make during the holidays" will be on the menu as a shareable this fall. Combining a blend of sautéed mushrooms with garlic, white wine and cream, he reduces the liquid to thicken, tops it with bread crumbs and Parmesan cheese, and bakes it until golden.
"People think it is really difficult, but it's a really easy dish," Edwards says. "The presentation is great, kind of decadent. It's a great Thanksgiving side."
While certain time-honored culinary traditions remain a vital element of festive menus and holiday foods, a little bit of creativity applied to the right seasonal ingredients can freshen a restaurant's offerings and pique consumers' interest throughout the holiday season.
Tips: Make it festive, make it seasonal
Use syrups, fruit juice and meat broth reductions to add color and zing or heartiness to cold weather food and holiday dishes.

Make more desserts shareable. Gabriel Caliendo says, "Sometimes people just want a taste of something sweet, and it's an easier sell if all can share."

Since office parties will be booking tables, sell shareable, passable platters of small bites to them. "Most people like to try something different," says Ric Scicchitano. "And people enjoy that interaction over food."
Sharing is experimenting
Thirty-nine percent of customers want to try new flavors

Twenty-six percent of customers say they do that through sharing

Eighty percent of iGens (born between 1995 and 2007) are likely to order small plates; to them, eating is an adventure
Looking for more inspiration?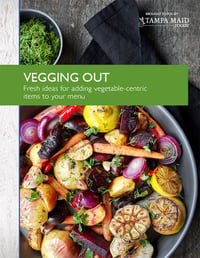 See our infographic to check out more tips for applying seasonal flavors. Or download our Vegging-Out White Paper, to learn what consumers expect from meatless meals plus fresh ideas for adding vegetable-centric items to your menu.