Chefs lower stress, see improvements throughout their kitchens with value-added ingredients.
Manage consistency, costs and labor with value-added products
Inspired chefs drive menu evolution and diversity, but at times their ideas require new, unique and possibly costly ingredients which swell inventory and increase food costs.
With new food and restaurant trends, those pitfalls can be avoided, however, by sourcing value-added ingredients which are semi-prepared or ready-to-cook. Such ingredients, whether freezer-to-fryer, ready-to-bake or cooked and quick-frozen:
provide consistency
reduce labor
ensure predictable food cost
allow for customization
"When we bring those products in, there's very little fluctuation in consistency, which is hugely important to us since we're spreading them over so many restaurants," says Rich Friedrich, culinary director at P.J.W. Restaurant Group in Haddonfield, N.J.
The multi-concept company operates 26 casual restaurants and pubs in New Jersey and Pennsylvania. "We wanted to make tater tots by hand for some dishes we had in mind," he says. "But bringing those in already prepared made much more sense because every dish was consistent systemwide."

Each ingredient must have a home
According to Friedrich, kitchen real estate is so precious in each of his concepts that before a new SKU is added to inventory, it must have a predetermined role in multiple menu items. Before the freezer-to-fryer tater tots were sourced, the product had a home in four unique dishes — the most popular was a loaded tots dish with bacon, green onions and ranch dressing — while others wound up in multiple LTOs. Those "gave us a great opportunity to experiment with new items using ingredients already on hand," he says. Using value-added ingredients allowed his concepts' appetizer menus to become a testing ground for new ideas.
"We'll offer seven to 11 new items at a time in appetizer promotions," Friedrich says. Those ingredients help "give us a great gauge to see how well those new items are received."
Mike Grimes, corporate chef and manager of culinary services at Tampa Maid Foods in Lakeland, Fla., says he teaches clients to "tear their menus apart in search of holes into which they can place value-added ingredients." Those menu overhauls not only encourage chefs' creativity, but also force them to reduce inventory wisely through an effort he calls SKU rationalization.
Extreme versatility
"Everyone has a limited pantry, so with a SKU rationalization every pantry item needs to be extremely versatile," says Grimes. Ideally, "each ingredient sits on top of a salad, stands alone on a plate with a dipping sauce, can be used in a side dish with an entrée and used over multiple dayparts in multiple menu segments."
David Spirito, senior director of culinary innovation at Dallas-based TGI Fridays, evaluates each menu ingredient by how quickly it moves into and out of inventory. Slow movers are eliminated, while he finds opportunities to use fast movers and value-added items in more menu segments.
"The more we sell of each thing, the fresher it is," he says. "So we like to make ingredients touch at least three or four places on the menu."
Guacamole touches many items on the menu at 13-unit Oaxaca Taqueria, but as the Brooklyn, N.Y.-chain began expanding, keeping its signature condiment fresh became a problem. To expand its reach, Oaxaca Taqueria opened a commissary kitchen where it produces guacamole for the restaurants. But when quality suffered, operators searched for and found a value-added solution — avocado pulp.
"We use avocado pulp to give us greater volume in our guacamole production," says David Schaap, culinary director at Oaxaca Taqueria. To the pulp, Oaxaca's commissary cooks add fresh-cut avocado chunks for texture, enabling the chain to customize the guacamole to its own specifications.
"We get the avocado pulp frozen or fresh in a bag," he says. "We use so much of it on so many items that it was the only way we could manage it."

Labor considerations
Grimes notes that as kitchen labor costs continue to rise, restaurant managers will need to lower costs in other areas to make ends meet. In addition to increasing quality and consistency of products, he says, using value-added products also reduces prep time for cooks.
"If you're paying cooks $15 an hour, you don't want their time spent hand-breading shrimp," he says. Even in the best kitchens, he adds, inconsistency is common when human labor is involved. "Value-added ingredients remove inconsistency. You know you're going to get the same product every time."
Fridays' Spirito encourages chefs to invest efforts into food innovation and customization initially and then seek out custom producers who can make specific value-added products for them. He says that in several cases Fridays has "reached out to core vendors who've nailed it every time" with custom products, and that "working with them in development keeps the focus on food first."
Detailed training of the kitchen staff, he adds, is just as essential to food consistency and flavor as ingredient management on the front end.
"If a portion of Alfredo sauce is [specified as] 6 ounces, it's 6 ounces every day," he says. "When we focus on the training piece, we can say to our chefs, 'Here are your tools; here's a great product; let's execute.'"
Nothing, says Grimes, allows that to happen as easily as value-added products. "It reduces the burden on a chef to obsess over the quality of every ingredient coming in," Grimes says. "It's a great way to make things simpler for everybody."

Menu mixing: tips for weaving in value-added products
Closely examine your menu to find and eliminate single-use ingredients.
Conduct an "SKU rationalization" to eliminate repeat or similar items.
Analyze inventory to get rid of slow-turnover ingredients and/or SKUs.
Find dishes whose quality can be improved or maintained by using ready-to-cook and/or ready-to-serve items.
Build specials and LTOs using value-added items such as frozen breaded shrimp and pickle slices for easy-to-make and small plates —items that work just as well as sides or upcharge garnishes.
Identify successful value-added products on other restaurant menus: (Hint: They're often identifiable as popular brand names, such as TGI Fridays' Jack Daniel's® glaze).
Looking for more inspiration?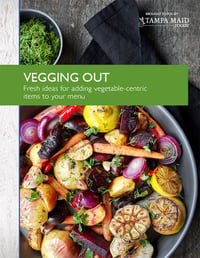 Check out our infographic to see how value-added items can help you with your next LTO. Or download our Vegging-Out White Paper, to learn what consumers expect from meatless meals plus fresh ideas for adding vegetable-centric items to your menu.