Operators cater to influential demographic group with a variety of tactics.
In a recent commercial for the Checkers/Rally's brands, a group of young adults are seen whipping around the drive thru and ordering several $2 mini-box meals which they proceed to pass around and share.
The Tampa, Florida-based burger company's commercial reflects consumer behavior associated with influential millennials:
Grazing on a variety of small bites
Ordering various flavors
Motivated by sharing
These are just some of the dining characteristics exhibited by the millennial generation, a demographic currently estimated to be around 80 million people in the United States. Members of this group are roughly between the ages of 17 and 34, and reportedly are expected to spend $200 billion on goods and services in 2017.

"[Millennials] have an amazing perspective on life and enjoy what they are doing," says Tom Pendrey, chief operating officer of Donatos Pizza, a Columbus, Ohio-based concept with 157 locations in eight states. "They are about health, community, family and friends."

To attract and retain millennial customers, restaurants are luring them with revamped menus, more transparent policies, remodeled stores and targeted marketing strategies. Below are some operational approaches that are resonating with millennials, according to operators.
Adventurous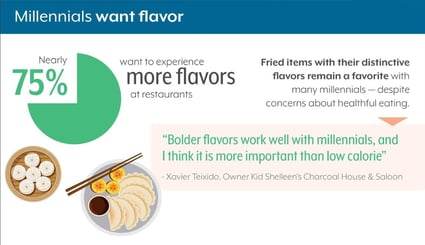 Millennials are not afraid to try different, spicy, and unique flavors. From tangy salsa to dishes that combine traditional comforts such as macaroni and cheese with Buffalo chicken.

"Millennials love bold new flavors and they like to experiment," says Donatos' Pendrey. The pizza chain recently created the Hot Chicken Pizza, a pie topped with crispy chicken, pepper jack cheese, jalapeño peppers, dill pickles and ranch dressing.

Tacocue Americano Eatery, a new fast-casual concept launched last year by the owners of Billy Sims BBQ in Tulsa, Oklahoma, was created with millennials in mind, says chief executive Jeff Jackson. Tacocue combines smoked meats with Mexican cuisine. Options for tacos include brisket, pulled pork, smoked chicken and chorizo. Among the toppings offered are Cotija cheese, corn relish or cilantro. Salsa options include the spicy Ka-Boom Salsa.

"It's an American twist on Mexican food," Jackson says.

Millennials also want comfort food, but with a twist, says Sam Ballas, chief executive of East Coast Wings + Grill, based in Winston-Salem, North Carolina. A recent hot seller for East Coast Wings is the Macaroni Buffalo Skillets, a combination of the chain's chicken macaroni dish and Buffalo chicken wings, cooked and served in personal skillets.

Fried items with their distinctive flavors remain a favorite with many millennials — despite concerns about healthful eating. At Kid Shelleen's Charcoal House & Saloon, part of Wilmington, Delaware-based Harry's Hospitality Group, flavorful fried items such as Panko Fried Oysters, Fried Manchego and Poutine Fries are offered as starters. "Bolder flavors work well with millennials, and I think it is more important than low calorie," says owner Xavier Teixido.

(Take a lookt at our Millennials Reshaping Dining Infographic which provides more data about adventurous millennials.)
Setting
While millennials may be flocking to fast casual concepts, a 2-year study of this age group showed that they were willing to wait for food as long as it was hot, flavorful and high quality, Ballas says. East Coast Wings invested in research to better understand the millennial customer.
"We found they were coming in for the ambiance, the ease of perusing through the menu and quality, and not so much speed," he says.
In addition to remodeling its stores and changing the ampersand in the company name to a plus sign, East Coast Wings reduced the size of its menu to make it easier to navigate as well as to focus more on quality, Ballas says.
Shareable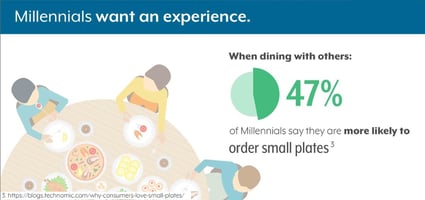 Restaurants have been adding smaller plates, appetizers or other dishes that address the trend among millennials to share their food with dining companions.
"We're seeing a lot of social snacking," says Scott Wakeman, senior marketing director for Checkers/Rally's. "Everyone gets something different, and they pass it around and share."
Special combination offers such as the "4 for $3" — four sandwiches for $3 — and the $2 box meals with fries and either cheddar biscuit shrimp or chicken bites have become popular with millennial customers who want to share, Wakeman says.
At The Carving Board, a sandwich concept based in Los Angeles, customers buy four, five or six dishes to share, says chief executive David Adir. Staff will cut sandwiches in half or split a single dish order on two plates at customer request.
Transparency
Millennials also want to know what's in the food they're eating and the source of the ingredients, Adir says.
"They want honesty and openness in menu items and menu creation," he says. "People want to know where their food is coming from and what's in their food."
The Carving Board bakes its own bread and cookies, while turkey is roasted in house and potato chips are made to order.
Transparency also applies to pricing, says Scott Iversen, vice president of marketing for Toppers Pizza, a pizzeria concept based in Whitewater, Wisconsin, which targets its media outreach specifically to 18- to 34-year-olds.
Rather than charge per pizza ingredient topping, Toppers created "Straight Up Pricing, a two-tiered pricing system. Customers get up to two toppings at one set price, depending on the size of the pizza, and pizzas with unlimited toppings have a set price. For example, the difference between a small two-topping pizza and a medium two-topping is $2, while a large is $3. The cost of unlimited toppings also rises incrementally between pizza sizes.
"You know what you are going to pay without doing a lot of math to calculate it," Iversen says. "We're not 'nickel and diming' the customer for creating their own custom creations."
Whatever strategies operators employ, there is no question that millennials are influencing how the restaurant industry conducts business.
Looking for more inspiration?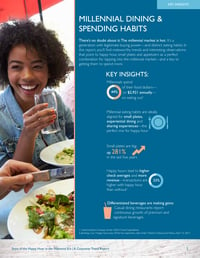 Our infographic provides more ideas on what millennials are looking for in dining experiences, and our State of the Happy Hour Trend Report covers how tap into the millennial market with small plate innovations.