Side dishes take center stage as restaurant operators showcase more imaginative, flavorful preparations.
Soon after the Brass Tap Beer Bar refreshed its menu, the kitchen staff at the Atlanta location noticed that an unusual occurrence was becoming more commonplace — individual customers were ordering full meals made up of only side dishes.
"Our sides were so good people were building plates off just the side items," says Stan Dorsey, director of research and development for the Tampa, Fla.-based craft beer concept. "It didn't hurt check averages either."
Sides Take Center-Plate
Side dishes are emerging as center-of-the-plate stars thanks to operators getting imaginative in an effort to meet the expectations of an increasingly sophisticated customer base — made up in many cases of adventurous millennials. From decadent macaroni and cheese to sweet potato waffle fries, sides are some of the fastest-growing menu items, helping to boost traffic and check averages.
"Sides need to be compelling," says restaurant consultant Arlene Spiegel of New York firm Arlene Spiegel and Associates. "Many menus are not even calling them sides but small plates. They can be starters or two or three small plates put together as a meal."
After extensive customer research, Brass Tap's management made the decision to focus more intently on the quality and flavor of its menu items, Dorsey says. Among the chain's new additions were such sides as:
Five-cheese mac and cheese
Made-to- order hush puppies and tater tots
Angry Onion Rings — thinly sliced onions seasoned with spices and deep-fried
"We made items more 'Brass Tap-y' with bolder flavors and funkier presentations," Dorsey says.
Top Trends in Side Dishes
According to Chicago-based market research firm Datassential, mac and cheese and sweet potatoes continue to have a high penetration as side dishes on restaurant menus and rank as two of the fastest growing à la carte items. Other top-selling sides include:
Brussels sprouts
Tater tots
Hand-cut fries
Quinoa
Shrimp is the most used seafood in side dishes and is featured on 21 percent of sides, says Datassential marketing coordinator Joe Garber.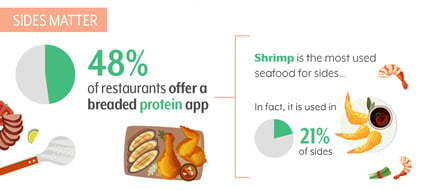 Pickled and fermented vegetables also are gaining popularity, Spiegel says. "We're seeing it done with anything from string beans to asparagus to cabbage. Often these dishes have a Korean, Japanese or even Indian flavor profile."
Although the marinating process takes time, fermented and pickled vegetables possess a longer shelf life, which helps with food costs, she says.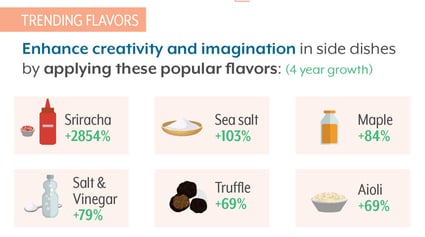 Datassential also reports the fast-growing flavor ingredients in side dish menus are:
Sriracha
Sea salt
Maple
Salt and vinegar
Truffle oil
Aioli
While the most mentioned flavors on à la carte menus are:
Garlic
Sour cream
Caesar
Barbecue
Ranch dressing
The Operator Advantage - Low Cost, High Creativity
Getting imaginative with side dishes also allows operators to take advantage of the lower food cost of vegetables, Spiegel says. "They give operators a chance to show their creativity, and that's not just for a chef-driven restaurant but for a diner or coffee shop as well," she says. "Any place can have amazing vegetables. They elevate the entire dish."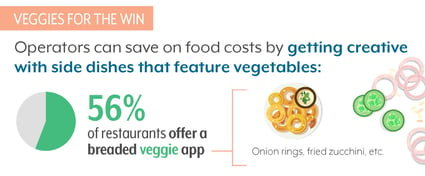 The humble carrot is now smoked or roasted. Cauliflower is pureed and combined with a garlic cream, or sliced into steaks and grilled, Spiegel notes.
Customers of Ocean Prime can get just as excited about side dishes as a filet mignon or lobster, says a spokesperson for the Columbus, Ohio-based seafood concept. Popular à la carte dishes include the smoked gouda tater tots — crispy potato tots with melted smoked gouda in the center and served with a side of aioli; and the jalapeño au gratin — creamy au gratin potatoes with a hint of jalapeño and topped with melted Swiss and provolone cheeses.
Indulgent Plates Elevate the Experience
Consumers today are looking for indulgent side dishes, Spiegel says. A successful example from 5 Napkin Burger in New York is the chili cheese waffle fries plate — waffle-cut sweet potatoes are fried and topped with chili, jalapeños and sour cream. Popular sides at the four-unit Hill Country Barbecue Market in New York include a sweet potato bourbon mash, collard greens and bacon and Campfire Baked Beans.
"No one wants wasted calories anymore," she says. "If they are going to indulge, it may be on the high caloric end. Customers want it to be decadent and consummate in mouth feel."
The Best Plates May Even Steal The Show
The wood-fire roasted cauliflower at Poggio Trattoria in Sausalito, Calif., started off without any mention on the menu — it simply played a supporting role to a steak entrée. But after customers continued to praise it and request it separately, the dish got its own listing as a side on the menu, says managing partner Michael Mindel.
Roasted in brown butter with Calabrian chili, capers, parsley, hazelnut and dates, the cauliflower is spicy, smoky, crunchy and sweet, Mindel explains.
"It's important to stay just as creative with side dishes because consumers have so many choices today," he says. "They demand a level of sophistication from every component of their meal. Simple potatoes and sautéed vegetables aren't enough anymore."
Having really good side dishes elevates the entire menu and the customer experience, Mindel adds. "A good side dish enhances the value perception of the whole dish — and the really great ones can add revenue as a standalone item."
Ready For Your Own Small Plate Innovations?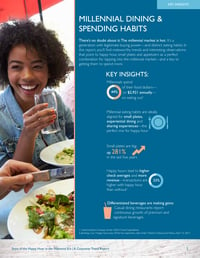 Our infographic summarizes the trends that will get your side dishes to take center stage, and our State of the Happy Hour Trend Report covers how tap into the millennial market with small plate innovations.