Research shows younger customers crave interesting variety from new ingredients, smaller portions.
The term "side dish" is arguably less exciting than "center of the plate." But that doesn't mean a dish relegated to a supporting role should be any less delicious or central to the dining experience than the headlining protein.
Restaurant patrons have always craved variety from the stars of the plate — the large portions of protein, vegetables and starches that comprise the bulk of a meal. But now better ingredient-educated customers are also demanding diversity from the supporting accompaniments which can add a memorable pièce de résistance to any plate:
Flavorful sauces
Herbs
Spices
Oils
Vinegars
Emulsions
Increasingly, these enhancements — often presented in a small plate format — are born of ingredients drawn from the global pantry. According to the 2017 Datassential Menu Trends study, of the 30 fastest-growing flavors, based on use in all restaurants, few would be considered American standards. But among the many identified, the following surged in popularity:
Espellette pepper
Aquafaba
Dukkah
Zaatar
That shouldn't be surprising given the findings of the National Restaurant Association's 2016 "Hot Trends in Food and Beverage" survey. The foods picked out as "hottest" by the 1,600 chefs and professional members of the American Culinary Federation were dishes that drew on some of those flavors. Among the most popular were:
Ethnic and/or street food-inspired appetizers (tempura, taquitos, kabobs)
Ethnic dips (hummus, baba ganoush, tzatziki, dukkah)
Poke and/or ceviche
Flatbread appetizers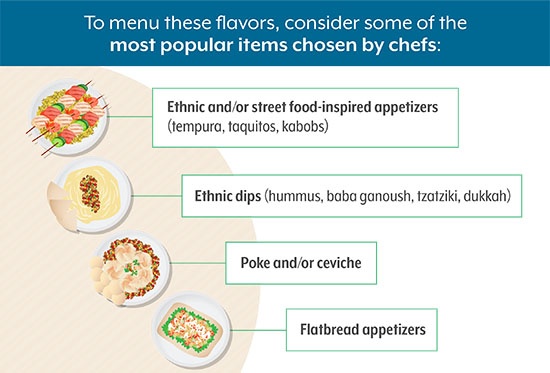 Global flavors from the following regions were also noted as being on-trend:
Africa
Middle East
Latin America
Millennials, iGens drive small plates
But while this new influx of flavors has captured the attention of food professionals, their deeper penetration onto mainstream restaurant menus will depend on consumer acceptance of new options. Not surprisingly, analysts at Mintel in Chicago see millennials as the early adopters leading the way into food experimentation — and they're doing it one small plate at a time. Analysts found millennials view small plates as sources of increased variety through sharing, while requiring a lower cost commitment than a typical entrée.
"Small plates allow them to try so much more in one dining occasion," says Mintel foodservice analyst Diana Kelter. "Where they might have had just a burger and a vegetable, they're now exposed to different flavors. We've found that millennials especially want to experience as much as they can in one meal."
And though they have less expendable income, the newly christened iGens (born between 1995 and 2007 and ages 10 to 22) are even more likely to order small plates, experts say. A full 80% of this emerging group say they would most likely order small plates and appetizers when dining out, compared to 77% of restaurant customers in general who would order an entrée.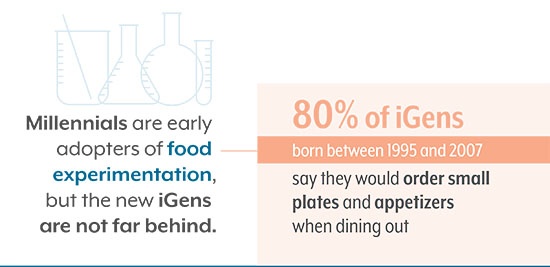 "The data definitely speaks to younger demographics being accustomed to the shareable trend," Kelter said. "They're just not thinking of dining out from a traditional entrée perspective."
Utilizing prepared food items
All of these trends bode well for items well-suited for small-plate presentation like breaded and fried seafood and vegetable bites including:
These make easy-to- prepare, hot-selling snacks that can be combined with innovative dipping sauces flavored with zesty ingredients like:
Harissa
Guajillo
Chipotle peppers
Mintel's data also identifies small plates as good tools for convincing customers to venture outside their routine ordering patterns. 39% of consumers say they are motivated to try unfamiliar flavors offered as an appetizer rather than a full meal. Another 26% say a dish designed for sharing would encourage them to try unfamiliar flavors.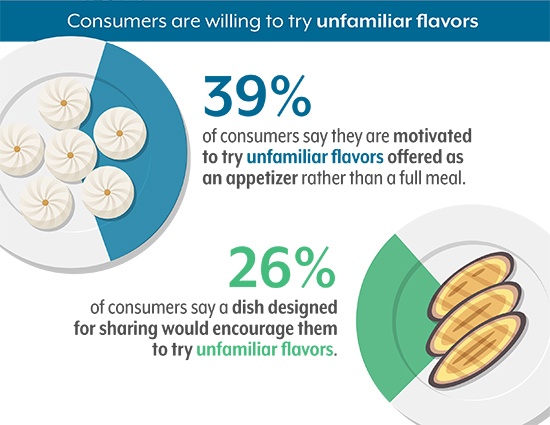 Grazing gains in appeal
Despite dining habit differences among demographics, Kelter says consumers overall are finding grazing an increasingly appealing way to try new tastes. Allowing guests to linger, nibble and sip for extended periods is ideal in situations such as happy hours, when there's less pressure to turn tables in a lounge area. It also provides guests another opportunity to customize their experience outside the framework of a traditionally structured meal with a variety of conventional courses.
"The meal doesn't have a defined beginning and end in that situation," Kelter says. "With shareable, small plates, you can stay awhile, get hungry again, order more, get another drink. There's no rush."
Lingering and grazing can have a positive effect on check average, she adds. "A lot of small plate restaurants tend to be higher-end, so when you have guests ordering five $10 to $15 plates, it can add up to the cost of a full meal," she says.
Menuing small plates versus appetizers
Kelter says one of the most interesting discoveries in the Mintel research was how small plates are positioned by operators on their menus. Over the past year the number of menu sections titled "small plates" has decreased 18%, while those headed "appetizers" have increased by 6%. Other headings for menu sections that likely could be described as small plates included "snacks," "bar snacks" and "light bites," though Kelter believes they are basically all the same.
"I think the lines are blurring some, and restaurants are just getting more creative in how they frame up the small plate trend," she says. "Those changes don't mean small plates are in decline; they're just rearranged on the menu."
Looking for more inspiration?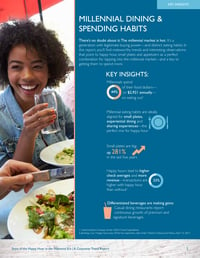 Our infographic provides more ideas on how small plates are big opportunity to introduce unfamilar flavors, and our State of the Happy Hour Trend Report covers how to tap into the millennial market with small plate innovations.