Small plates provide consumers with opportunities to experiment with unfamilar flavors.
This especially applies to millennial and iGen consumers. They are interested in global cusine like:
Italian
Mexican
Chinese
Spanish
Japanese
They also are interested in a variety of flavor profiles, with hot/spicy flavors leading the way.
Find out the other flavor trends consumers are exploring with small plates.

Looking for Additional Inspiration?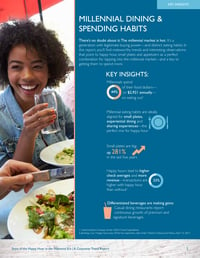 Get more ideas on how to include global flavors on your menu, or download our State of the Happy Hour Trend Report to learn how to tap into the millennial market with small plate innovations.