Chefs, operators explore new combinations as the traditional approach to pairing sides and mains evolves.
The term "side dish" is arguably less exciting than "center of the plate." But that doesn't mean a dish relegated to a supporting role should be any less delicious or central to the dining experience than the headlining protein.
Still, changing the way things have been done for years can be challenging, experts say. "It's just the way customers have been trained to think about restaurant meals," says Paul Paz, founder of WaitersWorld.com, a server training consultancy. Customers even speak of their entrées when making dinner plans, saying, "We're going out for steak" or "I'm really craving pizza," but never, "Let's celebrate with mashed potatoes."
Nevertheless, the culinary landscape is indeed changing as chefs and operators approach the traditional side dish/main dish combination from a different perspective and explore ways to more thoughtfully partner the pair on the plate.

Personalized pairing
Paz underscores the importance of properly matching the right side item to the main dish. As a server at Oswego Grill in Lake Oswego, Oregon, he sees sides as tools for making a good meal great. "The aim is to offer side items that are beneficial to the guest's experience," Paz says.
David Spirito, senior directory of culinary innovation at Fridays, agrees, saying the casual-dining chain has always trained its servers to use sides to personalize the dining experience. "We train them not to be scripted robots just because something comes with fries and coleslaw," Spirito says. "We want servers to take the lead and say, 'Though this comes with mashed potatoes and broccoli, I like the Brussels sprouts more.'"
On home tables, sides are commonly added to make meals more filling or nutritious. But professional chefs are increasingly creating sides that complement entrées with contrasting flavors and textures.
Asian-style pickled vegetables deliver crunch, tang and a touch of heat that boost flavors in mild-tasting and softer-textured proteins such as chicken or fish.
Middle Eastern salads made of couscous, cherries and arugula provide freshness and firm textures that stand up well to boldly flavored grilled beef or pork.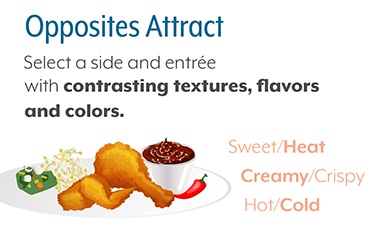 Creative choices, new flavors
The responsibility of making a good partnership on the plate might be easier these days, thanks to the variety of interesting side items emerging from kitchens.
While myriad potato and rice options are always available, chefs are serving nuanced variations on well-known veggies. More often seen in the sauce pot, green beans, zucchini and mushrooms today are increasingly breaded and fried until crispy. Meanwhile fried green tomatoes, long a Southern staple, are popping up as accompaniments on menus across the country — notably as the foods of Dixie continue to make menu inroads.
A study from Chicago-based Datassential also points to the surging popularity of quinoa, kimchee and Brussels sprouts as side dishes in restaurants. Researchers found that the presence of each on menus has grown at least 100 percent annually for the past four years.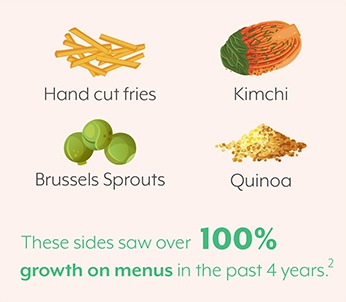 Sharing Sides
Guest excitement over side dishes, says Spirito, is leading Fridays to ask the broad question, "What does a side really mean?" The chain is increasingly looking at sides as a variety of first choices, not afterthoughts accompanying the entrée. Considering sides in that light, he adds, helps his chefs think beyond the parameters of traditional single-serve portions of de rigueur vegetables or starches. Fridays is even considering the social aspects of sides, testing larger dishes designed to be shared by two to four people.
Why the change? He said the chain is learning many lessons about sides, and their future applications at Fridays, from the success of its Endless Apps program. For $12, guests choose one of six items and have endless refills of it. The idea, however, is to get friends to join in and each order something different, allowing everyone to sample more. Spirito also says it proves some guests prefer grazing on small bites instead of committing to a full-sized center-of-the-plate item.
"Friday's is a social place, and [guests] want to share plates," Spirito says.
Popular Sides Transformed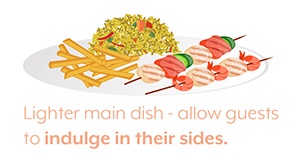 "We're always looking at how we can innovate beyond the classics," Spirito says. Taking its popular sweet potato fries, Fridays' chefs transformed the base starch into marshmallow, bourbon and honey sweet potato fries, which can complement numerous plate partners. "We reinvented our mac and cheese, and we're doing a crispy Brussels sprout side that's really popular."
The Brussels sprouts also double as an appetizer, a dual role, Spirito believes, that is happening with other items, such as its onion rings. Once a side, the rings are now a shared large appetizer for two to four diners.
Will the future find the chain offering proteins as a side, something in the vein of a pair of smoked ribs or a few fried shrimp? Spirito allows that such notions have been discussed, but that nothing is yet in test. Innovation with sides is about creating a better overall customer experience, Spirito says, adding that increased sales never hurt, either.
We tell our chefs to "lead with flavors first, make the dish great and then back into your cost parameters," he says. "It's fun to go into a kitchen with a blue sky mentality and develop the best sides."
Looking for more inspiration?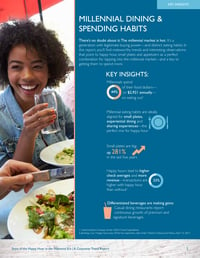 Our infographic provides more tips on pairing sides and mains, and our State of the Happy Hour Trend Report covers how to tap into the millennial market with small plate innovations.