Younger generations trend toward sharing small plates while boomers tend to stick with traditional meals.
Whether driven by heightened interest in new foods or greater interaction with table mates, restaurant customers are increasingly choosing small plates, appetizers, and shareable menu items.
Research shows plate sharing occurring most commonly among adventurous younger diners, especially those broadcasting their every bite on social media. And it appears some view sharing as a high-value, lower-cost way to enjoy a great meal.
"Younger generations are definitely more apt to go to restaurants where they'll find shared plates, places like tapas restaurants or gastropubs," says Ric Scicchitano, managing partner with Food and Drink Resources, a Denver-based consultancy. And while those customers may be paying less per person, Scicchitano says check averages tend to rise when guests share.
"It's a win-win for customers and operators when customers feel they are getting more value and the operator sees higher checks," he says.
Young Gens Drive Sharing Trends
In its Innovation on the Menu study published last September, Mintel Menu Insights found that baby boomers tend to stick to the traditional path of coursed meals — ordering an appetizer and/or salad, entrée and dessert. But with millennials and younger generations, sharing increases dramatically. According to Mintel's findings:
Forty percent of customers overall are likely to order interesting appetizers or small plates for a snack.
Eighty percent of the 40 percent above are iGens (born between 1995 and 2007) who are most likely to order small plates.
Seventy-four percent of millennials alone are likely to order small plates and appetizers when dining out.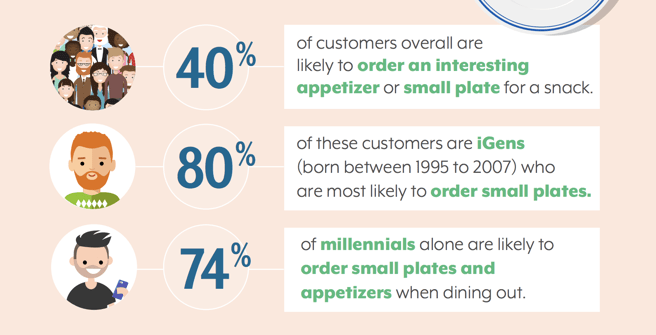 According to Mintel foodservice analyst Diana Kelter, 52 percent of consumers surveyed for the report regard themselves as "foodies" who are food trend savvy due to social media use. Where small plates are an option, she says, such consumers "want to try much more in one dining occasion. That's contrary to the past. Now that they're exposed to so many different flavors, they want to experience as much as they can in one meal. We think that foodie mentality is driving it."
Mintel also finds that ordering smaller portions reduced consumers' perceived risk of disappointment.
Thirty-nine percent of those polled report being motivated to try unfamiliar flavors when part of appetizers/small plates rather than a full meal.
Twenty-six percent of consumers say dishes designed for sharing would encourage them to try an unfamiliar flavor profile.
"If a customer is sampling an international flavor or being exposed to something they've not heard about, they appear more willing in a shareable setting," Kelter says. "The same thing for an LTO small plate."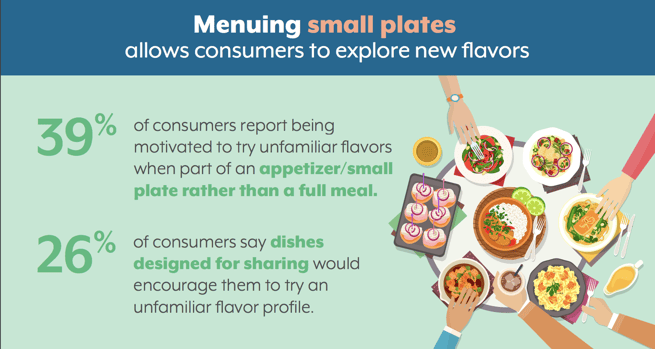 Small Plates = Variety
Scicchitano says demand for small plates reflects consumers' increased love of finger foods. Whether it's a giant pull-apart pretzel, a dish of poutine or easy-to-share fried food like green beans, pickles or seafood, customers often respond to small plates by foregoing flatware.
"It's like the same rules apply there as when eating from a food truck: one hand holding what you're eating, the other holding a beer or a phone," Scicchitano says. "You'll really see customers eat with their hands at entertainment places where they're served giant platters."
Scicchitano says a visit to any family or casual-dining chain will reveal that the days of fried food like mozzarella or shareable hot spinach dip are still very much in demand. But when current trends such as vegetarianism and the increasing demand for charcuterie and cheese boards come into play, interest grows along with a willingness to pay a bit more for innovative offerings.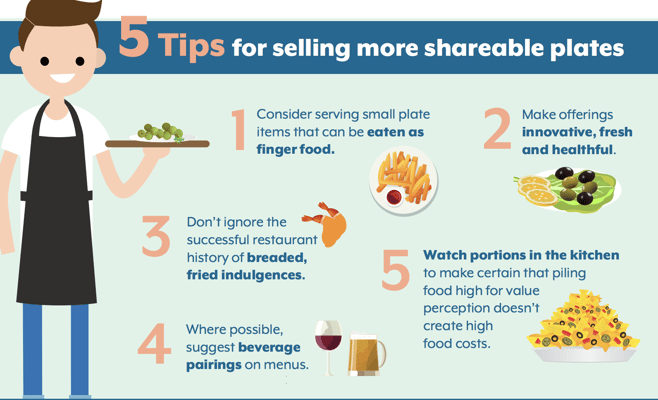 Grazing and Sharing
Chad Coulter, co-owner of LouVino, a three-unit wine bar and small plates concept in Louisville, Ky., says the three large-plate offerings on his 28-item menu are a hard sell outside of private parties. The concept's core demographic — women ages 30 to 45 — want small portions for grazing and sharing.
"It's safe to say that 80 to 85 percent of our guests buy small plates to share," Coulter says.
Looking for more inspiration?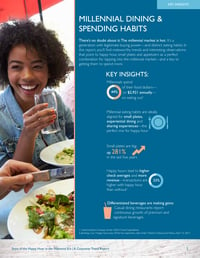 Our infographic provides insights on how generational differences can impact menus. Consumers contiune to seek small plate dishes, and adding generational peices could help in selling sharable plates. Or download our State of the Happy Hour Trend Report to learn more about this and how to tap into the millennial market with healthy appetizers.