Younger generations trend toward sharing small plates while boomers tend to stick with traditional meals.
Generational dishes are a great way to impact menu preferences, and may include:
Mashed Potatoes
Chicken Wings
Tater Tots
Mac & Cheese
Keep reading for more ideas on how to incorporate generational influenced cuisine into your menu.


Looking for more inspiration?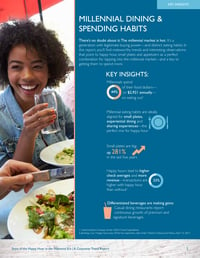 Now that you know the generational impact of Our blog post gives exclusive insights on using generational impact to spark consumer interest in small plates and appetizers. Or download our State of the Happy Hour Trend Report to learn more about this and how to tap into the millennial market with healthy appetizers.