Small plate menus can provide variety for guests, a sales boost for operators.
When customers order the $48, four-course chef's menu at The Alembic Kitchen and Bar in San Francisco, they often will order an item or two from the restaurant's small plates menu for an additional $8 or $10, says managing partner Stan Gee.
Whether it's the Japanese meatballs with egg yolk and soy or the sprouted lentil croquettes, the restaurant's small plates provide customers with a way of experiencing and sharing additional items on the menu, Gee says.
At the same time, offering small bites at small prices has proven to be a successful strategy for restaurateurs looking to incrementally raise sales. The key, operators say, is to offer customers a sense of variety and value while keeping the pricing competitive and profitable.

"Small plates have a minimal influence compared to larger appetizers and starters, but they do help to raise check averages," Gee says.

"It's upselling without overselling," says Bill Crow, regional chef for Ocean Prime, a Columbus, Ohio-based upscale seafood and steakhouse chain.

Small plates have grown in popularity since they started appearing on non-tapas-style menus in 2004, says Datassential. By 2016, many full-service establishments were offering them, the Chicago-based marketing research firm reports in its recent Small and Shared Plates Report. Today, approximately 35 percent of casual-dining operators offer small plates.
Savory and Spicy Tastes
Chefs and restaurateurs create small plates from a broad ingredient palette, although savory and spicy dishes in particular work well as small tastes, especially on bar menus, says Gee.

"Flavors that work well in small plates are spicy, umami, deep-fried and grilled," he says. "Smaller plates are more appealing to our guests who come in specifically to enjoy cocktails."
Such flavors rank high in menu references, reports Datassential. Over the past four years, an increasing number of restaurants have been menuing small plates of:
Kale salad (grew 1068%)
Quinoa (620%)
Stuffed jalapeños (149%)
Tater tots (114%)
Popcorn shrimp (104%)
Leading small plate proteins are:
Chicken (54.6%)
Shrimp (42.9%)
Beef (32.6%)

Calamari

(30.7%)
Calamari remains a popular item on the small plates menu at Ocean Prime, Crow says. The calamari is marinated in buttermilk and flavored with a blend of chili, hoisin and light soy sauces. Smoked gouda-filled tater tots are also gaining in popularity at Ocean Prime. The dish was downsized from a side dish to a small plate for the lounge menu. The potatoes are par-cooked, rolled into a little barrel shape and fried with a little garlic aioli.
"It's creamy on the inside and crispy on the outside," he says. "It's a nice item to share and it's having great success with guests."
Guiding Guests
A well-trained service staff is critical to the successful menuing of small bites. Ocean Prime servers are trained to guide customers through the menu, recommending small plates to taste or share in addition to other items, Crow says. Most of the small bites are a part of Ocean Prime's lounge menu and are ordered with cocktails in the bar.

"When you do a hard sell at a table with guests, that will turn them off," he says. "Instead you create an experience, guiding guests, talking with them about their likes and dislikes and helping them to make great menu choices." Most of the smaller plates are finger foods, he says, such as fish tacos and sliders — items that are easy to share.
"The convenience of it and appearance are important," Crow says. "It's not large; it's not heavy. You're not staring at a big piece of sea bass or steak. You are not going to fill up on a small plate."
Turning Large Plates Into Small Plates
A small plates menu also helps to meet the consumers' desire for variety with minimal disruption to kitchen operations, says restaurant consultant Dennis Lombardi of Insight Dynamics, LLC.
"They allow you to have a broader appeal to consumers, all without increasing SKUs, recipes and kitchen training," Lombardi says.
Often restaurants will offer smaller or lighter portions of entrées or appetizers — items already on the menu. But the smaller portion and lower price encourage customers to try more dishes, he says.

Turning bigger plates into small plates is an easy option for restaurants, Lombardi says. Instead of one order of calamari for $11, a customer may instead opt for a small calamari plate for a lesser price, but then order a couple of other small plates and wind up spending $12 or $13.

Anthony's Coal Fired Pizza, the Fort Lauderdale, Florida-based chain with more than 60 locations, offers small plates of larger popular items, such as its meatballs or chicken wings. The smaller plates fill a need for customers who may want just a taste, says founder and chief executive Anthony Bruno.
"A person who wants 10 meatballs is not going to drop down and ask for five, but a person who would not order 10 may order five because 10 is too much," Bruno says. "Or someone who wants four will not drop down to two. The smaller portion is for the person who would not order four, but will order two. It's a sale that we might not have had before."
And even though a small plate portion may be half of a regular entrée, operators do not need to reduce the price by half, Lombardi says.
"What you are saving is a little on the protein cost — veggies and starch stay about the same," he says. "Make the small plate a couple dollars different in price, so there is some value to the consumer. Take $2 off and you still come out close to where you want to be."
All things considered, a well-constructed small plates menu can prove to be a positive experience for operators and customers alike, experts agree, providing both variety and value to the guest and a new profit center for the restaurateur.
Looking for more inspiration?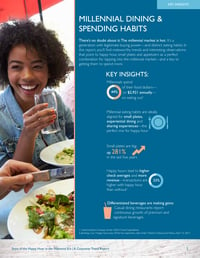 Our infographic provides 7 tips on how to menu small plates, and our State of the Happy Hour Trend Report covers how to tap into the millennial market with small plate innovations.