Operators drive traffic and sales with creative bar menus and promotions.Think mouthwatering value when it comes to devising a bar menu that will help to drive happy hour traffic, say chefs and restaurant operators across the country.
1. Next Level Spice
A restaurant's bar menu should always be a little spicier, which makes customers want to drink a little bit more, says Mark Dommen, chef/partner of One Market restaurant in San Francisco.
For example, the pork belly bahn mi tacos Dommen created for a catering event turned out to be a perfect addition to One Market's bar menu. The pork is glazed in a fish sauce, topped with pickled vegetables, mint, cilantro and jalapeño, and served on a house-made flour tortilla. "The pickled vegetables balance the richness of the pork belly and the mint balances the spice from the jalapeño," he says. "It wakes up your mouth when you eat it."
2. Creativity & Ingredient Selection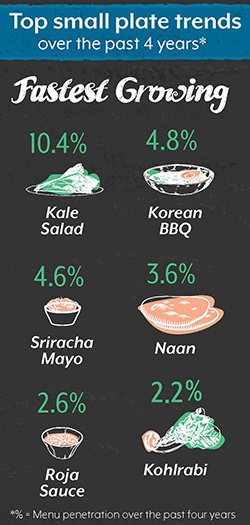 Big flavors along with finger foods and shareable dishes featuring premium meats, fish, shellfish and vegetables can help build a strong happy hour business, according to industry observers. Creativity sells and, of course, so do the drinks, with promotions to create interest and a sense of value for the after-work crowd.
According to Datassential's 2016 Alcoholic Beverages Keynote report, smaller, well-crafted dishes are emerging with the growth of craft cocktails. Chefs are upgrading the bar menu with their creations of unique and premium ingredients. For instance, trending foods like Brussels sprouts, quinoa and kale are making more frequent appearances at the bar. Gluten-free and whole-grain items also show up more often on bar menus along with Korean barbecue and beef meatballs. (Take a look at our Setting the Bar infographic for more trends and ideas.)
Every Wednesday from 5 to 7:30 p.m., Anthony's Coal Fired Pizza locations with full bars feature the chain's Martini and Meatballs promotions. Customers can imbibe $6 vodka drinks while servers pass through the bar with platters of Anthony's signature roasted meatballs.
"It's like being at a cocktail party," says Anthony Bruno, chief executive and founder of the full-service concept based in Fort Lauderdale, Florida. "It's a nice atmosphere to come to after work."
Waterman's Surfside Grille in Virginia Beach, Virginia, is generating traffic with its bar food. Among its appetizers Waterman's offers fish tacos, zesty fried calamari, shrimp and bacon-wrapped sea scallops in addition to Buffalo Tuna Bites. To prepare the Buffalo Tuna Bites, cubes of cooked tuna are tossed in a classic, spicy Buffalo sauce and served with bleu cheese dressing and celery sticks for a crafty spin on this classic finger food.
3. Fresh and Consistently Updated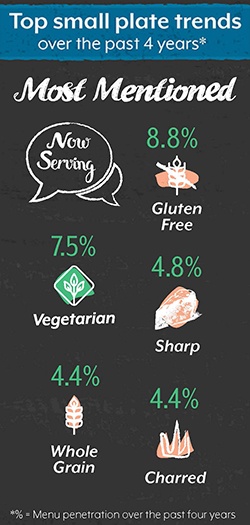 Part of being creative with bar menus is to keep them fresh and updated, says Dommen of One Market.
"We have to change the menu a little bit or people will get tired of it," he continues. "We get rid of the things that are not selling and keep the things that are."
4. Sharable Items
Popular dishes that remain on the One Market menu are the rice-crusted calamari, chickpea fries and mini sliders — items easily shared or eaten by hand.
"The one thing I try to do is to make food that's sharable and easy to eat," Dommen says.
Shareable dishes also are popular during the happy hour at E&O Kitchen and Bar, says Sharon Nahm, executive chef of the modern Asian restaurant and lounge in San Francisco's Union Square neighborhood.
A top selling dish is the Pu Pu Platter. The appetizer plate serves four to six people and features smaller portions of many of the restaurant's signature dishes including Chinese five-spice chicken rolls, short rib sliders, hoisin-coffee ribs, chicken satay, Indonesian corn fritters and taro chips.
Nahm focuses on bold flavors for the restaurant's bar menu, which includes butternut squash and shiitake mushroom dumplings and a variety of local oysters with kimchee cocktail sauce. The happy hour menu also is competitively priced with dishes that range from $1 to $24. While noshing on appetizers and shareables, customers can sip $6 cocktails and wine and $4 beers in the restaurant's lounge.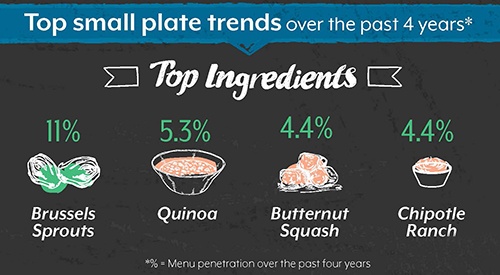 "The happy hour menu has largely gained popularity due to word of mouth," says Nahm.
5. Drink Promotions
Restaurant operators also note a good happy hour menu is complemented with a refreshed pricing policy on drinks. But while value-oriented drinks and innovative promotions are certainly key to driving consumer interest and traffic, experts advise chefs and operators not to lose sight of the importance of offering flavorful bar selections that will keep their customers coming back. The right bar food will also be a big draw to guests.
Looking for more inspiration?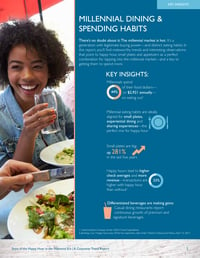 Our infographic provides more ideas on how to customize your bar menu with the latest small plate trends, and our State of the Happy Hour Trend Report covers how tap into the millennial market with small plate innovations.