Menuing innovative vegetable dishes can be profitable and differentiating for any restaurant.
As industry innovators gaze into the new year in search of future culinary direction, many are detecting such evolving restaurant trends as increased consumer demand for menu variety, smaller portions and healthful options served in relaxed settings. What better environment for offering shareable vegetable dishes and appetizers that allow customers to interact casually and eat a bit less while providing chefs with the opportunity to innovate with modestly priced ingredients?
Veggie plates rising
When it comes to menu penetration by vegetable small plates and appetizers, research from Chicago-based Datassential reveals that consumer preference for produce on the plate is higher than ever. According to Datassential, the top three small plates offerings in 2017 were vegetable centered:
Salads
Fries
Vegetable chips
Meanwhile, the top four "growing" shareable small plates offerings (in terms of increasing menu penetration) in 2017 were the less traditional:
Brussels sprouts
Kale salad
Shishito peppers
Poutine — a Canadian dish combining french fries with fresh curds and gravy.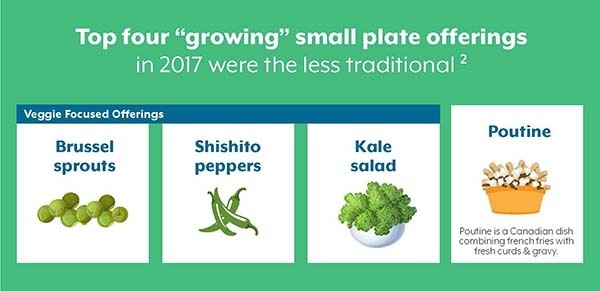 According to Ric Scicchitano, managing partner with Food & Drink Resources, a Denver-based consultancy, consumer desire for healthful foods, particularly vegetables, has given chefs "creative license to explore … to literally throw the garden at the plate."
Fried with a twist
While roasted and wok-seared vegetables have become increasingly popular preparation techniques, breaded and batter-fried veggie standards still loom large in the menu lineup — but often with a twist. Here are a few examples:
TGI Fridays includes:
Crispy Green Bean Fries are accompanied by a cucumber-wasabi ranch dipping sauce.
Fried Pickles are served with a zesty BBQ ranch dip.
At The Distillery (five-unit Syracuse, N.Y.-based casual dining) the appetizer menu features:
Crispy green beans and buttermilk-marinated and flour-dusted Frickles, both of which are served with remoulade sauce.
Buffalo Fry'd Cauliflower, however, is a signature offering made from cauliflower florets that are buttermilk battered, deep fried and tossed in spicy Buffalo sauce.
Poplar Springs Inn & Spa (Warrenton, Va.) serves:
Fried Buffalo Cauliflower shared plate
"Guests love it because they get the taste of Buffalo wings, but in a healthier version of a vegetable," Woody Isaac, executive chef at Poplar Springs Inn says. "Our food and beverage staff loves it too, because the cost is so minimal."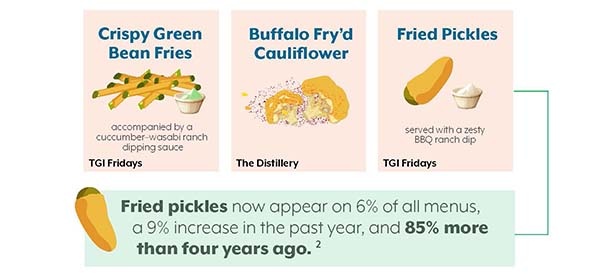 Made for sharing
Michael Gibney, chef and partner at Emmerson Restaurant, in nearby Boulder, Colo., says his years in New York restaurants taught him proteins were the stars of every plate. But in Boulder his clientele has encouraged him to consider vegetables first.
"To me, it's so common here that our customers want vegetable-focused dishes that it's past being a trend," Gibney says, adding that sharing is important among his patrons. "So as a chef, it's cool to start thinking about a dish at the point of the vegetable and then working my way out to it being garnished with meat and seafood — if at all."
At Andrei's Conscious Cuisine in Irvine, Calif., a popular shared plate is the portobello steak fries. Executive Chef Porfirio Gomez slices thick strips of portobello mushrooms, coats them with panko bread crumbs, fries them and pairs them with tartar sauce. The restaurant's tempura-fried butternut squash is also a favorite, according to Gomez.
The Ways & Means Oyster House in Huntington Beach, Calif., also menus several creative veggie plates. They include:
Eggplant fries served with chile aioli and dusted with powdered sugar.
Crispy polenta sticks finished with a sauce of poblano pepper and cheese.
Veggie plates of roasted tricolor cauliflower and grilled baby carrots are also popular with guests, according to owners Jennifer and Parnell Delcham.
However, Shelly Velez, executive chef at two Southern California restaurants, observes that the clientele at each possess vastly different tastes when it comes to shared vegetable plates.
"They do share for the same reason, not to eat too much or too little of anything; they want two or three bites," Velez says. However, she continues, "At Pillbox Tavern in Solana Beach, the fried pickles are a popular sharing plate, while at Nautilus Tavern in La Jolla, people want roasted and grilled veggies with a good dipping sauce."
While Gibney believes guests at the upscale Emmerson crave more complex vegetable dishesand appetizers, he cautions that the labor required to make them can narrow the margin gained in the purchase of those relatively inexpensive raw materials.
"You can oversimplify it by saying vegetables cost far less than a whole ribeye and be right," Gibney says. "But then you've got to put far more labor into making a vegetable dish incredible, not to mention to get a good price for it and convince the customer that it's worth it."
Point of differentiation
While Scicchitano agrees that it can be challenging to innovate with vegetable dishes and appetizers, he views it as an opportunity for restaurants to differentiate their products in a me-too marketplace. He offers these tips:
Make it a fritter. You see lots of fried vegetables; push it a step further.
Make a blend of things. You don't have to serve just one thing on the plate; make blends of things like fried artichokes and olives with fried squash to give textures and tastes.
Make it shareable --- something you can eat with your fingers.
Make it fun.
Looking for more inspiration?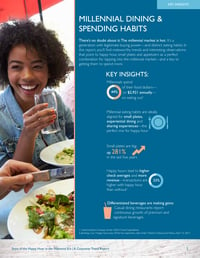 Our infographic provides insights on how restuarants can drive sales using flavorful vegie centric small plates and appetizers . Or download our State of the Happy Hour Trend Report to learn more about this and how to tap into the millennial market with healthy appetizers.